Read these ten differences between Windows vs Mac. I have compared both of the Laptops in different ways like price, security, software, upgrade, and much more. Users can read our comparison and buy a Mac or Windows for their Office, School, or routine work.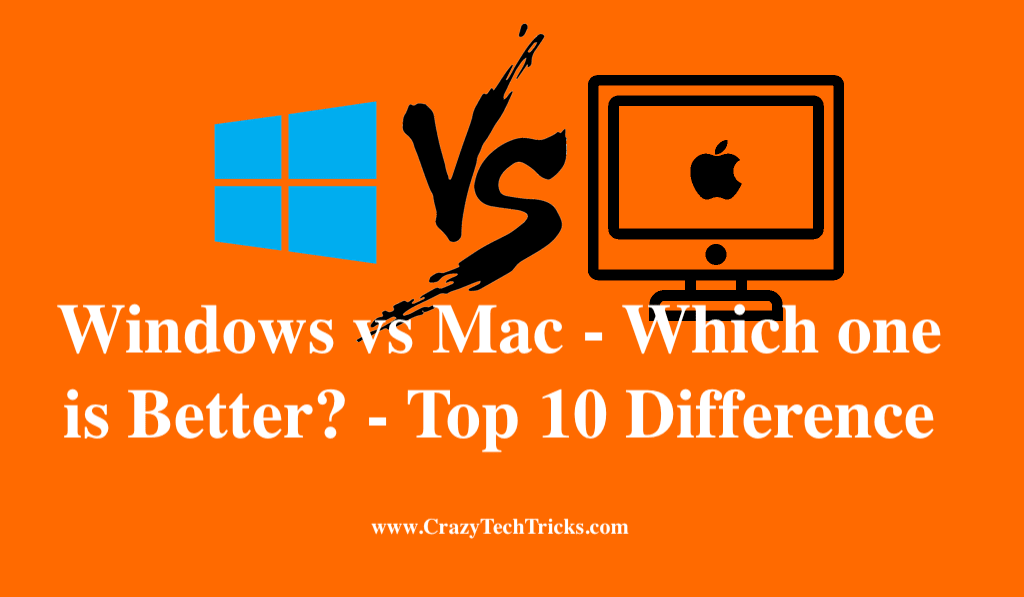 Are you planning to buy a PC and aren't sure to buy a Windows or a Mac? It is difficult to choose between either of them. At the same time, anyone can conclude that Windows may be the better choice by considering the price. But there is more to look for while you make a choice.
Windows vs Mac can be such a heated debate that even advocates stay away from taking this topic. In comparison, both the Operating systems have developed a loyal following in recent years. But there is more to look for, while you make a choice.
Windows vs Mac – Which one is Better? – Top 10 Difference
Did you know that the number of people who use Windows is four times more than those who use Mac OS? The Operating System Market share's recent statistical data shows that OS X or the Mac OS accounts for only 7.78%, whereas Windows gets 35.43%.
Before we differentiate the software based on some parameters, let's get to know what are some main fundamental differences.
When it comes to the common differentiation, the hardware and the OS software comes into the picture. Apple makes its hardware and sells it along with their OS. Whereas Windows have some licensed manufacturers who produce their own hardware and sell them with Windows installed.
As Apple produces their own hardware, they have more control over their system's hardware and how it is designed. When it comes to Windows, we can buy the hardware according to our necessity and budget. Now let's get on with the main parameters on which Windows can be differentiated with Mac.
Windows vs Mac – 10 Difference
We will look into various parameters to decide which Operating System is better for you, Windows or Mac? My goal is to educate you enough to determine what you want, like a real Geek between Windows and Mac.
Price
Security
Design
Gaming
Software compatibility
Freeware included
Mobile Device Support
Voice Assistants
Upgrading OS
Support
The parameters on which we are going to differentiate Windows and Mac.
Price
This is the first, and maybe the only criterion for some people on a budget buy to avoid Mac. But, I suggest that you must think beyond the price tag. Apple's Macs have their own reputation for premium prices. The expert say that it is because of the top-end components they offer. Unlike Mac, Windows provides you with an ocean of different offers.
You can choose whatever hardware you want at the convenience of your budget. This will be the first big plus point to Windows in Windows vs Mac.
Read more: Thunderbird vs Outlook
But, here is the catch. You get to take whatever hardware specification you want to in Windows, but if you want your system to match high performance, it will cost as much as Mac. Most design professionals decide to spend money on Mac because of the version it offers. If you are looking for essential computing functions like web surfing, documenting, etc. you must go with Windows.
Security
Earlier, I had shared statistical data, showing the distribution of the market share of different Operating Systems. Windows is the most used Operating System worldwide. When there are so many users worldwide, it is straightforward to get infected with viruses.
Once Windows was known for frequent crashes and has fallen prey for Malware, Trojans, etc. But Windows has become better now. It is continuously focusing on its security features by giving regular Windows Defender updates and have also introduced measures against ransomware.
Read more: Windows 10X Vs Windows 10
Apple's Mac is far more stable when it comes to Security. As there is a small community of people using Mac, there is also a tiny community developing software for Mac. Which, in result, has very few attacks. But you must know that Mac is not immune to any vulnerability. Recently, KeRanger Ransomware had infected almost 7000 Mac users. But, when compared to the attacks that Windows users get, Mac is way better secured.
Design
Apple produces its own hardware, and they have more control over how their products look physically. They maintain their top-notch high-level designs with an attractive look. Macs are way lighter. When it comes to design perspective in Windows, well they actually don't assemble and produce products of their own so they have no control over how their product looks physically. Mac has the advantage when it comes to Hardware design.
When we look inside the OS. Firstly, the Taskbar in Windows and the Dock in Mac. Mac has this cool feature of zooming applications icon when we hover on to the Dock. But the Dock's negative side is that, when we click on the icon of an already opened program, it won't open the program window.
You can only see its menu on the top. But in Windows, it will always take us to the program windows when we click on the program icon in the taskbar. Windows gets the point in internal design.
Gaming
When it comes to Gaming, the ball is in the Windows court. All pro Gamers choose Windows over Mac. You can customize your components in Windows while playing Game in Windows which Mac doesn't allow you to do so. Even if there are some quite cool games on Mac, there are better games available for Windows.
All the top games on Steam are compatible with Windows rather than Mac. You can also play PlayStation games on Windows by using Sony's PlayStation Now service.
Read more: Fortnite vs PUBG
You can also stream games through the Xbox app. You can buy play anywhere games on Microsoft Store and you can play them by loading them either on your Xbox or PC. So if you are a gaming enthusiast, then you must go with Windows.
Software Compatibility
Both Windows and Mac have an equal share in this parameter. It was easy for people on deciding if they needed Mac or Windows based on the software you needed in earlier times. Windows was known for Business productivity tools. Mac was used by professionals who edit photos and other creative applications.
But now, both Microsoft Office and Adobe Creative suite have both the Windows and Mac versions. Windows and Mac, both provide an App store.
Read more: Chromebook vs MacBook
You can download any software you like to from the app stores. Installing software is very straight forward in Windows and adds plus point to Windows in Windows vs Mac. But you have three different ways to install the software in Mac.
Freeware Included
Windows and Mac, both the Operating Systems come with some pre-installed software. You get some decent Mail clients, photo and video viewers calendars, and calculators. You also get apps for Camera, News, and Maps.
Windows offers a Translator, Skype, Sticky Notes, and Xbox gaming applications. But Mac has more superior applications to offer. Mac gives you a Superior Video Editor, Music Streaming Service, and a Preview utility. You will also get the GarageBand Music Composition application and a fully productive suite in the Mac.
This feature is also taken into consideration right after taking Price into account. Because of the best software Mac offers, the Price of Mac is negotiated and therefore stands as an advantage to Apple's Mac in Windows vs Mac.
Mobile Device Support
Windows is making very good improvements in the integration of Windows with the Mobile device. Some applications let you start from where you left on another device for both iOS and Android. Windows has Your Phone application by which you can share documents.
Windows can't beat the integration which Apple provides between Mac OS and iOS. Its a big plus point to Apple's Mac in Windows vs Mac. You can send text messages by syncing to a nearby iPhone from the Notifications panel in the Mac OS. You can share almost everything with AirDrop.
Read more: Chromebooks vs Windows
You can FaceTime between Apple devices. Apple Watch is yet another addition to Apple's integrated ecosystem that Windows can't match up to. Mac OS provides the best Mobile integration.
Voice Assistants
AI Voice assistants are revolutionizing the tech world now. Windows has Cortana while Apple has Siri. Cortana was released in Windows 10. They both are capable of quite very important ways. They can open applications, do the math for you, open Web pages, check the Weather change System settings, set Remainders and Alarms. They can also send Emails and search the Web.
But there is one function that Siri is lacking. Siri cannot log you out or shut down the computer, which can be done by Cortana. Now Cortana can also send requests to Amazon's Alexa. It adds a plus point to Windows in Windows vs Mac.
Upgrading OS
Both Windows and Apple release the newer versions of Operating Systems. Getting the Operating system is not free in the case of Windows. You will have to pay $120 if you want to get upgraded to the current Operating System.
Though upgrading to Windows 10 was free in the first year of its release. It is no longer available for free now. This, therefore, adds a negative point to Windows in Windows vs Mac.
Whereas in Apple, upgrading to the new version of the Operating System is totally free. You can download it and install it on any Mac that supports the Operating System's released version.
Support
You will need to talk to someone when you run into some issues with your device. Apple provides a 90-day free Phone customer support. The service can't be pointed out for mistakes, though. Apple provides very good customer care service. But it only lasts for 90 days.
When it comes to windows and if you run into any issue, you can get it fixed anywhere. Not all computer shops can deal with Macs.
If you are a Windows user, you need not fear anything happens to your PC because you can get it if fixed anywhere. It's not the same case with Apple though. After the 90 day trial, taking your device to an Apple store can be costly. It adds a plus point to Windows in Windows vs Mac. So when it comes to Customer support, we would like you to prefer Windows.
Read more: SafeDNS vs OpenDNS
Deciding the winner of Windows vs Mac is a very serious decision. You can easily pick a Mac because you have limited options. The features and specifications of the device will let you decide which model you want to purchase. But in Windows, you have more options. When you have more options, you get confused about which one to buy. Two different manufacturers may offer the same specifications, which makes it more challenging to decide.
Conclusion
We may never get to conclude on Windows vs Mac topic. Each has their own Strengths and Weaknesses. In this article, I have listed out the parameters that will help you decide to buy a Windows PC or a Mac. There are many other parameters to differentiate Windows and Mac, but not all necessary to determine which one is suitable for you. I hope this article helps you decide between a Mac and a Windows PC.
Was this article helpful?