Use these tips to increase likes on your Facebook Page. Users can easily get over thousand likes in a week. No need of any paid promotion. Use Organic methods to increase the likes and reach of your Facebook Page.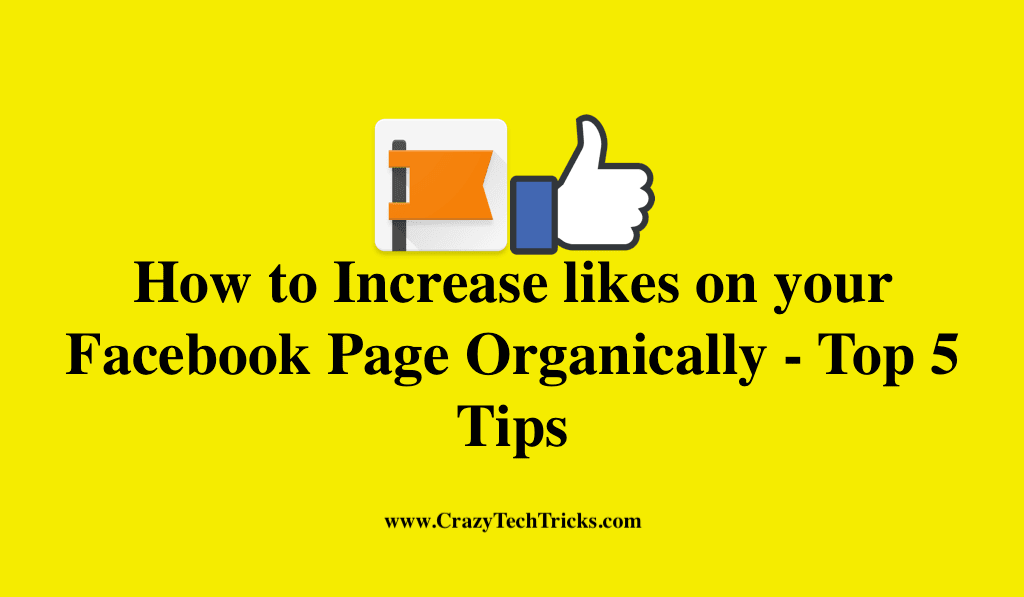 Are you an entrepreneur who has just started a company and wanted to spread the reach of your product? Or are you wanted to start a career in a social media platform? Well, having a Facebook page is common in these scenarios.
But how do you reach out to the crowd? How do you make customers come to your page and explore the product you make or the service you provide? Reaching out to people plays a significant role in a company's growth. So how do you do that?
How to Increase Likes on your Facebook Page Organically
There are so many other ways out there, but I am going to share some real techniques by which you can increase likes on your Facebook Page.
Well, getting likes, comments or following by hook or crook method doesn't actually work. You will need to have organic followers in order to hit that Facebook algorithm. There is a certain strategy to everything, and also presentation matters more. It would help if you put in your hard work in order to make something possible.
Read more: How to Hide Your Facebook Page Temporarily
I am going to discuss step by step on how to increase likes on your Facebook Page. I will not share any software or any paid method. So make sure you read all 5 tips and follow them.
Add all essential Information
In order to craft one, you just need to focus on that every bit of detail. Add all the essential information in your about and other sections. So that people can know about your business.
Your cover image and your profile image give the first impression to your audience. Put up a good picture. Your company logo can be your profile picture, but go all creative with the cover photo. On computers, your profile picture will be displayed in 170×170 pixels, and your cover photo will be displayed in 820×312 pixels.
Read more: How to Change Facebook Page Name After 200 likes
In Smartphone, your profile picture is displayed in 128×128 pixels, and your cover photo will be displayed in 640×340 pixels. Facebook recommends you to use 851×315 pixels and less than 100KB.
If you have a post that has more likes and comments. Keep it pinned. It will be shown first to your audience when they visit your page and may get more likes and comments. Its always good to keep your best performing posts, so get that first impression.
Your page must be easy to find
Having great content doesn't help if you are hard to find. Choose a name that can be remembered easily. Don't add too many keywords. Make your page look legit, not spammy.
If you have a website, add follow and like buttons so that it becomes easier for the people to connect with you. Put a post of yours on your website. It will create more visibility for users. In order to do so, just the three dots on the top right corner of the post you would like to post on your website, and click on embed. Then paste that code in your HTML.
Read more: How To Merge Facebook Pages without losing likes
Promote your Facebook page
Promote your page on your other social media platforms. Don't just put up a link. People will obviously ignore it. Try to put a short video or a picture and share it. Try to focus on more sharing, which in return will increase more organic followers. Include your Facebook page on your business cards and corporate stationary.
Post relevant and High-quality content
"Short and Sweet" is the game-changer here. Keep your video short, a high quality both in content and visual. Try to create unique infographics. There are so many places on the internet from where you can get free high-quality images, use them to create some compelling visuals.
Read more: Convert Facebook Profile to Page
Consistency
Be consistent in the quality and the type of posts you create. It can help your audience to know what to expect from you. Create a calendar and schedule your posts in advance. Post it at the right time. You have to do your own research. Know at what time will your posts reach most of your audience. Be sociable on the social network. Not replying to the comments or questions curbs the new following.
Use insight tools to see the demographic of users and most users online at which time. Post at that specific timing to get more reach.
Conclusion
There can be other methods also to increase likes on Facebook Page. But these methods are easy and quick to follow. Users can use these tips on any type of Facebook Page. It will help you in increasing the reach of your Facebook Page.
Was this article helpful?