Hello friends, Today we will do a complete comparison between Instapaper vs Pocket. We will compare them on the basis of features, readability, pricing, and other details. You can find the best tool for reading your books and find the best between these two. We have shared almost every pros and cons of Instapaper vs. Pocket. You can find the best for reading.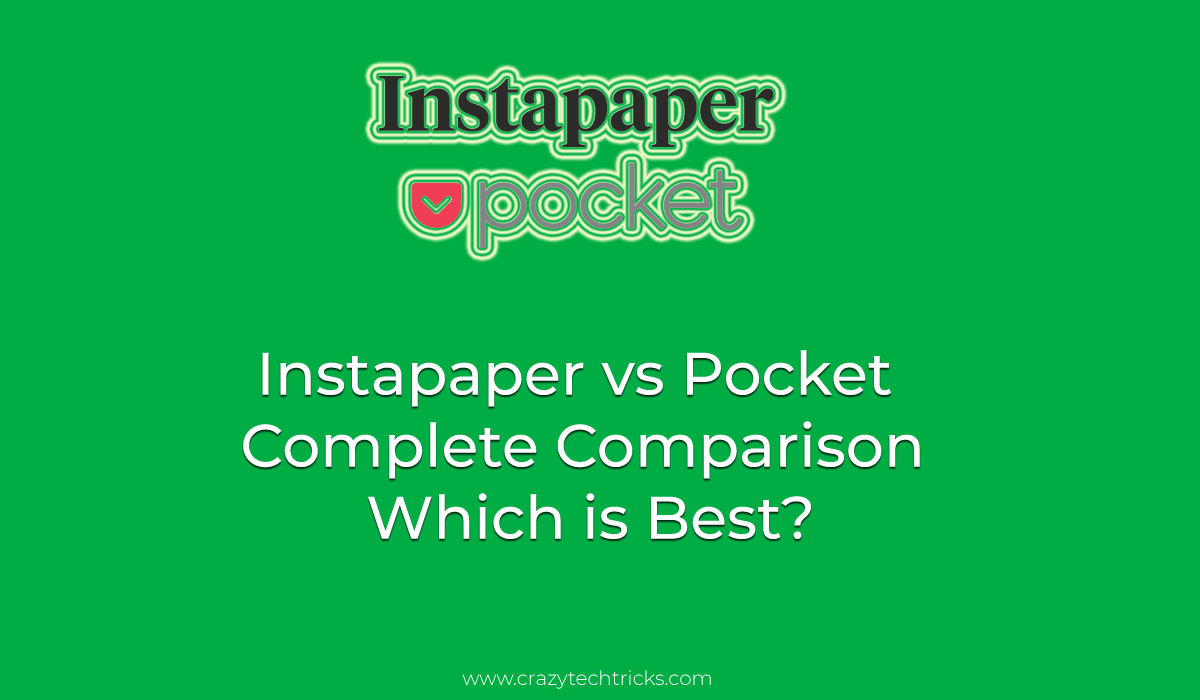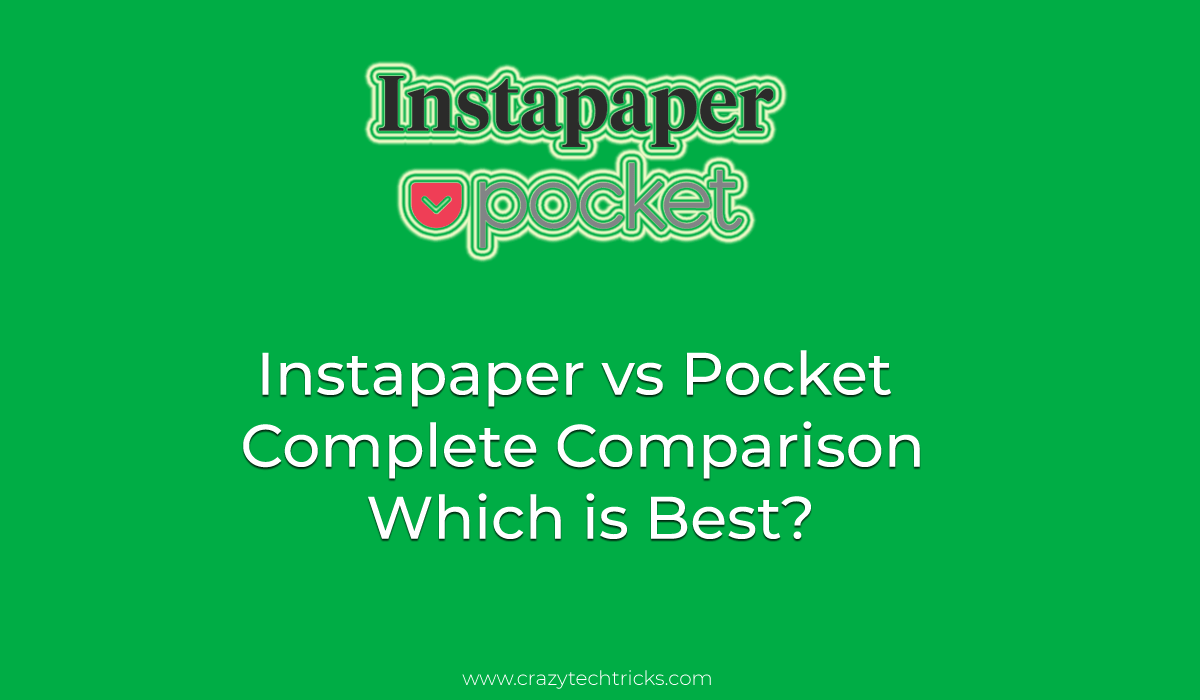 What is Instapaper?
Instapaper is a bookmarking service which is owned by Pinterest. However, it was founded arco Arment on 28 July 2008. Currently, its Alexa rank is 12,564 worldwide. It offers services that are Online bookmarking and saving articles for later reading. A user can use it to save web content to read it later from other devices as well. Instapaper is been used by over 2 million peoples worldwide. A user can use it to access Instapaper from e-books, tablets, smartphones, etc, to read the saved bookmarks. It is available for iOS, Android, and for Kindle device also. Instapaper has been positively reviewed by some big brands such as PC Magazine, Macworld, etc.
Read more: Kindle Fire vs iPad
What is Pocket?
The Pocket is a web service and application for managing the reading list of the articles via the internet. It was founded by Read It Later Inc in the year 2007. Nowadays, its Alexa rank is 622. The Pocket is available for Android, iOS, BlackBerry, Kindle Fire, Kobo, macOS, Windows, Windows Phones, and web browsers. Previously, it was known as Read It Later but know it has been renamed to Pocket. Mozilla Corporation has now owned it. The Pocket is a freemium service that can be used and donated by everyone. A user can donate it by checking its repository at GitHub.
Read more: Windows Sonic vs Dolby Atmos
Instapaper vs Pocket – Complete Comparison – Which is Best
This is the debate on Instapaper vs Pocket. There is no doubt that both the service Instapaper and Pocket are amazing. They are doing there job very well. But, sometimes it becomes very necessary for us that we find the winner between two of them. So, I have decided that today I will you that which one is between Instapaper vs Pocket. I have listed some major points which will help us to find the best winner between Instapaper vs Pocket. Though, let us move on to the below points and check out the debate of Instapaper vs Pocket. Trust me it's very interesting.
Read more: Android TV vs Apple TV
Instapaper vs Pocket – Similarity
If we talk about the interviews then yes Instapaper and Pocket both are similar to each other. They both are founded in the same feature as well. Where both the services Instapaper and Pocket allows you to save the content, including articles, videos, and more to be read them later by using the internet. Even they both Instapaper and Pocket offer the downloading service also so that a user can download its content for offline mode. Reading enhancement is very common in both of them. When you compare them to viewing on a webpage, then you will find that both are similar to each other. However, they both having the no-frills reading mode, which offers no ads while reading the content. But, yes, there are plenty of things which we can talk about as the difference between them also.
Read more: Android Pay vs Google Wallet
Instapaper vs Pocket – Features
The feature of Instapaper and Pocket are a little bit of difference. The Pocket allows a user to tag every saved content so that it will be easy for the user to find it quickly whenever the user needs it. This also means that Pocket search system is very robust. However, a person can not always remember each and every tag. So, Pocket will quickly find ist using the search system. Where Instapaper uses a folder-like organization system. Some people find it very amazing but some say that its very disheartening system. A user can pick any content to store it in the desired folder according to his/her wish. Overall, Pocket is better than Instapaper if the matter is about to organize the contents. Where Instapaper is better to find them as compare to Pocket.
Read more: Chromebook vs MacBook
Instapaper vs Pocket – Readability
From the similarity and features section, you have now got some idea about Instapaper vs Pocket as well as readability also. When it comes to the reading if the article, then Instapaper is better than Pocket. It has the great interface and reading options both. It has some features while the person read the article like customizing the font, theme, text size, spacing, and width. However, the Pocket also has the formatting options, but they are not good enough compare to Instapaper. The Pocket will give you some limited formatting options like changing the color theme, choose between two fonts, and increase or decrease the text size.
Read more: LCD VS LED Monitor
Instapaper vs Pocket – Pricing
If we talk about the pricing in the debate of Instapaper vs Pocket, then both the services are free of cost. But, they have an optional subscription in which you have to pay some fees to them if you want to subscribe to it. However, it is not necessary that you must buy their subscription fee, but it offers more features which you are not going to get it without the subscription. The subscription fee of Pocket is $4.99 per month and $44.99 per year. Where Instapaper offers the subscription at $2.99 per month and $29.99 per year.
In the subscription of Pocket, you will get some additional features like Permanent copy mode, Search through current articles and archives, Full-text search, Smart tag suggestions, Advanced search operators. Where Instapaper offers some subscription features that are Full-text search, Unlimited highlights, Unlimited speed reading articles, Text-to-speech playlists, Send to Kindle via bookmarklet option, Ad-free mode on the website.
Read more: AnyDesk vs TeamViewer
Instapaper vs Pocket – The Winner
The time for announcing the winner of the debate of Instapaper vs Pocket has come. If  I tell you in simple words then Pocket is best for multimedia but, the Instapaper is best for pure reading. The Pocket organizes everything of the user that is content very carefully. But, the Instapaper can search the content quickly for its users. However, if you want to read the articles, then Instapaper is best for you. Where if you're going to store some other content like videos and et then Pocket will be best for you. If we check the subscription price, then at that place Instapaper is very cheap as compared to Pocket. So, now the choice is yours.
Read more: Chromebooks vs Windows
Last Words on 
Instapaper vs Pocket – Complete Comparison – Which is Best
We have the debate of Instapaper vs Pocket, and we found the winner between Instapaper vs Pocket. If you are going to get any of the services, then I am sure that this article has helped you to find the best service for you. However, there are more read it later services can be considered as the alternatives to Instapaper and Pocket and can use used by us. I hope this entire article found to be helpful for you and now you have chosen the best service for you by using the debate of Instapaper vs Pocket. Make sure you share this article with your colleagues which is a battle of Instapaper vs Pocket.
Trending: Hulu Plus vs Netflix
Was this article helpful?