Today we are going to see the war of Hulu Plus vs Netflix. In this article, we are going to compare Hulu Plus vs Netflix on some basic things like pricing, performance, and more. This is the battle of Hulu Plus vs Netflix streaming services. Also, we will check some details of Hulu Plus and Netflix in this article. So, without taking more time on introduction let us start the war of Hulu Plus vs Netflix.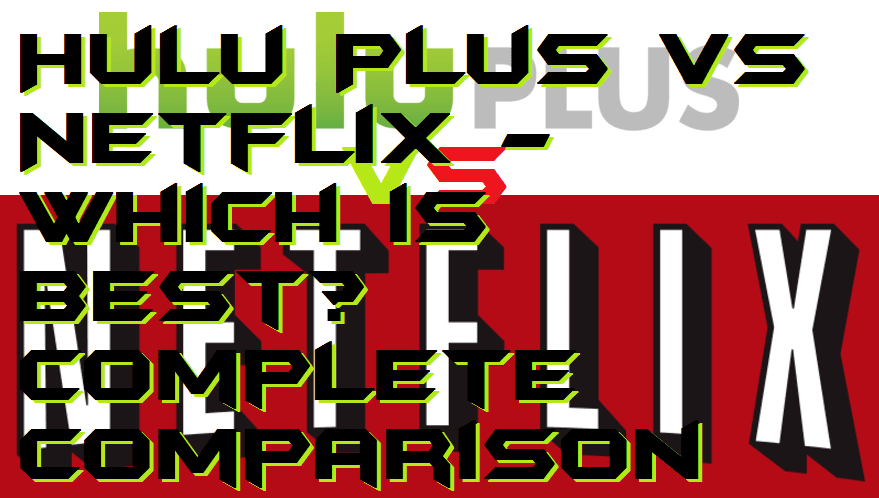 What is Hulu Plus?
Hulu is the American subscription video service which is owned by Hulu LLC. It was founded on 29 October 2007. It supports English and Japanese language. Hulu only serves three countries that are United States, Japan, and Canada. Its a joint venture of The Walt Disney Company, 21st Century Fox, Comcast, and Time Warne. Over 32 Million users use Hulu Plus from the served countries. It has both paid and free the services where free has the limited number of services and paid has tons of content in the library. Also, Hulu launched live television streaming service on 3 May 2017.
Read more: Which Search Engine is best Google vs Bing – Which Search Engine is best?
What is Netflix?
Netflix is an American entertainment company. It was founded by Reed Hastings and Marc Randolph, in the year of 1997. Netflix is demanded and specialized for streaming media, video on demand online, DVD by mail and more. Netflix expanded its services into film and TV production in the year of 2013. Over 117 million peoples use Netflix worldwide. It serves it services in over 130 countries in the world. It is having its headquarters in 21 Albright Way, Los Gatos, California, United States. Also, Netflix has its offices in the countries that are Netherlands, Brazil, India, Japan, and South Korea. It also offers both the services whether it's paid or free. In free users will get some tiny amount of services only where paid users will get every service offered by Netflix.
Read more: Amazon Echo vs Google Home – Which one is better?
Hulu Plus vs Netflix
I will make a comprehensive comparison of both Hulu Plus and Netflix. We will analyze all the essential aspects of Hulu Plus and Netflix. We will talk about their pricing, ads, quality and much more. I will suggest you to take read this article thoroughly. 
Read more: SafeDNS vs OpenDNS – What is the Difference? Which is Best?
Hulu Plus vs Netflix – Cost Comparison
The cost of Netflix streaming service depends upon the screens that how much screen you want. On that basis, Netflix will cost you the price. The starting fee for Netflix is $7.99 per month for one screen at a time and in the standard quality. In $9.99 is gives one screen with another one with downloading facility. Similarly, it also has more plans like this. Hulu gives two offers to its users first if of $7.99 with commercial ads, and another one is without commercial ads at $11.99. You can also buy live TV facility at $39.99 per month. Thus, Netflix is better than Hulu Plus because it does not shows commercial ads and is very cheap as compared to Hulu Plus.
Read more: Google DNS vs OpenDNS vs Comodo DNS vs Norton DNS – Which is Best DNS Servers?
Hulu Plus vs Netflix – Ads Comparison
If we talk in general words, then it is apparently known that Netflix is ads free, but Hulu shows some commercial ads on its starter plan which is of $7.99. But, Hulu is the cheap in pricing than Netflix. It can act as the deal breaker for other streaming services. Both the subscription option has the same content. Where a user can easily face commercial ads problem in both the prices. Also, it is claimed that under second option there are no ads but, it's not true. The ads find their way and show up in the videos while streaming. Hence, in Netflix, there are no ads for interrupting your show while using their services.
Read more: Differences Between Google Earth Vs ArcGIS – Which one is better?
Hulu Plusstraightforward vs Netflix – Quality Comparison
The matter of quality, Netflix users can easily pick any of the quality from offering page. Netflix is having qualities of video streaming like basic, standard, HD, and Ultra HD. The streaming service is available on the variety of quality for a supported device. Also, Netflix can stream up to 1080 pixels on a supported device with a surrounded audio sound. But, Hulu is not available in quality as same as Netflix. It only has the supported system for HD or 4K Ultra HD quality resolution screen. So, you have to be on a good internet connection as well as must have a good resolution supported devices.
Read more: Top 10 Best Free Alternatives to Paint on Windows PC/Laptop – Microsoft Paint Alternatives
Hulu Plus vs Netflix – Navigation Comparison
There not a single person who wants to waste time on navigation and when the website is poorly designed then, of course, there will be no one to use it. But, Netflix's user interface is very simple. Its streaming service makes it easy for its users so that they can easily search, read, browse, etc. However, in Netflix users can quickly add movies, episodes, etc. as a reminder to catch it later. Hulu's interface is also straightforward, as you scroll down on the page you will get more lists of movies and TV shows from the different categories. Users can quickly add any of the show by tapping the plus icon to add it to watchlist Hulu and in Netflix both. In the navigation, both the streaming services are best.
Read more: Top 10 Best Free Windows Magnifier Alternatives – Check Now
Hulu Plus vs Netflix – Content Comparison
Netflix has produced some most critical TV shows in its past years such as House of Cards, Stranger Things, and Orange is the New Black. Also, it created the Marvel series like Daredevil, Luke Cage, Iron Fist, Jessica Jones and the upcoming series The Punisher and The Defenders. Netflix has extended its library up to 32% in the last three years. Hulu Plus is also having its own sets of original like The Handmaid's Tale and The Mindy Project. But, the sad part is that the list of shows of Hulu is not long as compared to Netflix. So, in this comparison, Netflix is the winner.
Read more: IRNSS vs GPS – Difference between IRNSS and GPS
Conclusion
We now saw the battle of Hulu Plus vs Netflix. We found that Netflix is better than Hulu Plus. Netflix is better on the various topic such as quality, commercial ads, pricing, and much more. It is also a point which you must note that Netflix is available in over 130 countries worldwide but, Hulu is only available in three countries that are USA, Japan, and Canada. So, it's now your choice which streaming service you want to use. Go ahead and purchase any service which you want to use for streaming videos and shows. Hope this article removed your all confusion regarding Hulu Plus vs Netflix. You can share this article with your friends too if you want to tell them about this coolest battle of Hulu Plus vs Netflix.
Was this article helpful?