I have compared IRNSS vs GPS on 11 parameters. I will compare them on origin, accuracy, cost, satellite, and many more things. Make sure you read the complete article.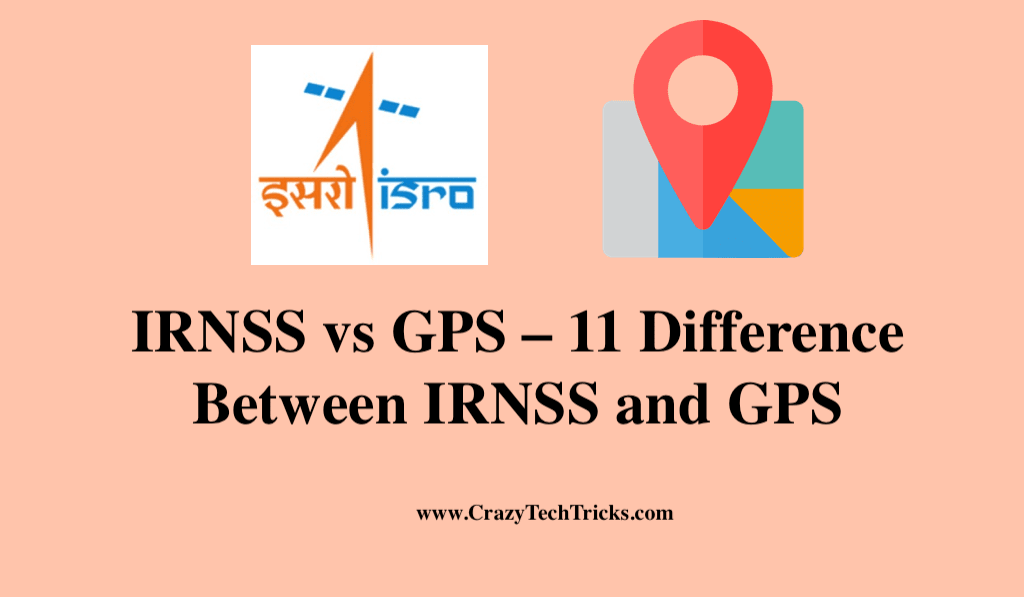 Here is a brief introduction to IRNSS and GPS. IRNSS is an Indian Satellite Navigation System introduced by NAVIC. It consists of 7 satellites that revolve around the Earth. And GPS was originally developed by the United States, which is the first global positioning system. It has 31 satellites in all. You may be assuming that IRNSS and GPS are identical, except for their country of origin. isn't it? We'll compare the IRNSS and GPS systems in depth to clear up this confusion.
We will differentiate both systems on several factors as the date of introduction, accuracy, range, the number of satellite costs,s and much more. Based on a range of parameters, we will compare and contrast the two systems, including their launch date, accuracy, range, satellite feeds, and more. Therefore, let us determine which is superior, IRNSS or GPS.
Read more: How To Plan a Route with Google Maps
IRNSS vs GPS
We will compare IRNSS vs GPS using the following criteria.
Date of the first Launch

 Total Number of Satellites Launched
The size of a constellations

Accuracy and Precision

Radius
Orbital altitude
Price
Resolutions
Origin
Lifespan
Bandwidth of frequency
Now lets read in detail.
Date of the first Launch
The date of the first Launch of IRNSS vs GPS is crucial to searching for a better system. IRNSS was initially deployed on 1 July 2013 and ran until 28 April 2016.
Whereas, When GPS was originally sent into orbit in February 1978, no one knew the exact dates of the first and last launches because of the Cold War.
Read more: How to Find My Android Smartphone
Total Number of Satellites Launched
The IRNSS has put seven satellites into orbit. Whereas, GPS has deployed 72 satellites, a tenfold increase in capacity over IRNSS's. GPS only makes use of 31 of those satellites.
Size of Constellations
It tells how many satellites are needed to provide a more accurate position. However, The IRNSS Constellation consists of seven satellites. The following is a list of the seven NavIC satellites currently in orbit.
IRNSS-1B – Launched in 2014
IRNSS – 1C – Launched in 2014
IRNSS – 1D – Launched in 2015
IRNSS – 1E – Launched in 2016
IRNSS – 1F – Launched in 2016
IRNSS – 1G – Launched in 2016
IRNSS – 1I – Launched in 2018.
Whereas, The GPS constellation consists of 31 satellites.
Read more: How to Find My Windows Phone After Lost
Accuracy and Precision
It is speculated that the military version of IRNSS will be even more precise than the civilian version, with a precision of between 10 and 20 meters. Whereas GPS has a 5-meters coverage range for civilian use, and there has been no official data given for military applications.
Range
The radius of a satellite is the overall region it covers. IRNSS is a regional satellite system that will cover India and have a range of approximately 1,500 kilometers from the Indian subcontinent. India can observe the border area for up to 1,500 kilometers.
Whereas, GPS is a global satellite navigation system that enables users to view any country or place.
Read more: Which Search Engine is best Google vs Bing
Orbital Altitude
The altitude of a satellite in orbit is measured concerning sea level on Earth. In contrast, the IRNSS satellite orbits the Earth at a distance of 36,000 kilometers. Whereas, The orbital altitude of the GPS satellite is 20,180 kilometers.
Cost
Compared to other satellite systems, IRNSS was extremely inexpensive at only $212 million. Whereas more than $1 billion is spent on GPS every year. There is no formal statement of the cost of GPS.
Read more: Google DNS vs OpenDNS vs Comodo DNS vs Norton DNS
Resolution
Using IRNSS, you can get a 20-meter accuracy. Whereas GPS's resolution is around 20 meters, it's nearly the same distance (10 meters with a handheld device). However, Both systems have nearly identical resolutions. Thus, both appear to be preferable in this circumstance.
Origin
IRRNSS's NAVIC, the operational name for this system, provides accurate real-time locating and timing services created by the Indian Space Research Organization (ISRO) in 2018. Whereas, US Air Force launched GPS, previously known as Navstar GPS, is a satellite-based radio navigation system in 1978. Government-owned GPS systems started appearing in the mid-1980s. A GPS receiver must have a direct line of sight to four or more GPS satellites to receive precise location information and time.
Lifespan of Each Satellite
The IRNSS satellites have a 12-year life expectancy. Whereas, The GPS satellite has a 10 life expectancy.
Read more: Best Fitbit Alternatives
Bandwidth of Frequency
NavIC satellites operate on two frequency bands (L5 and S), which contributes to the system's relative accuracy. Whereas, One-band GPS compensates for signal degradation caused by the atmosphere by using a different frequency band.
A global positioning system (GPS) is provided by some countries, while others provide regional navigation systems. The following countries are equipped with their satellite-based navigation system:
United States GPS: Beginning in 1978, the GPS has been used worldwide. Thirty-two satellites make up this constellation.
Russian GLONASS — 24-satellite constellation.
Galileo — Developed by the European Union and launched in 2016, with a constellation of 30 satellites.
Chinese BeiDou — Currently covering the Asia-Pacific area, it aspires to cover the entire globe by 2020.
The Quasi-Zenith Satellite System (QZSS) of Japan is a satellite constellation covering the Asia-Oceania region, including Japan.
Read more: Best Android Spy App
Conclusion
IRNSS, our native GPS, is already operational for military applications by Indian forces. While GPS usage is already widespread in India, customers are not required to be educated about it. This is not the case with IRNSS. For now, we can't say much about the IRNSS because the system hasn't been thoroughly tested.
However, in the context of the information presented above, we can safely say that GPS is significantly superior to INRSS. IRNSS is a new system, which is why the Indian government plans to launch more spacecraft to provide broader coverage. Anyway, we sincerely hope that this post was beneficial to you and cleared all your doubts.
Was this article helpful?