I will tell you a trick which will help you to restore/recover deleted files, data, contacts and almost everything from your iCloud storage. Yes! Recovering deleted files from iPhone iCloud storage is possible. Just read the complete article and recover your data.
iCloud is online storage provided by Apple. It allows users to save their data online in their cloud storage. iPhone, MAC and all other Apple products get the privilege to store their data in iCloud storage.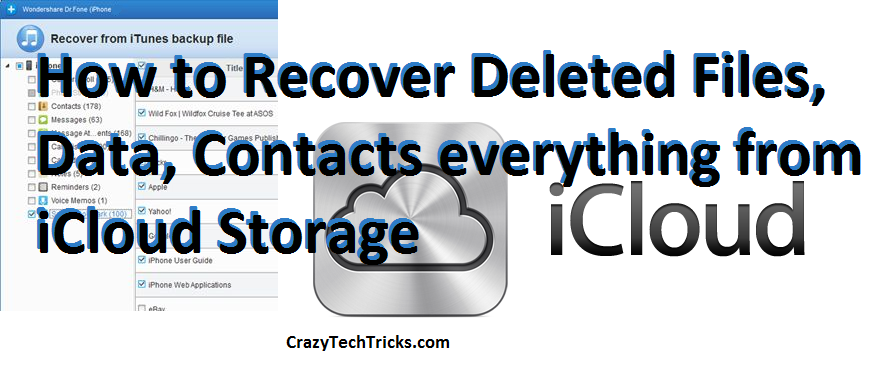 Restore/Recover Deleted Files from iCloud Storage
You can recover your MAC, iPad and iPhone data/files from your iCloud Storage.
Open Safari on your iPhone or Mac.
Now, open iCloud.com on your safari browser.
Enter your Apple ID and password to use your iCloud account.
Now, tap on the Settings.
Under Setting, you will find an option Advanced.
Now, you can select the files you want to restore. You can also choose to restore all deleted files.
Now, Tap on the Restore Files.
Read more: How to Unlock/Reset Passwords for Apple ID [iCloud] – 4 Easy Methods
Recover Deleted Contacts from iCloud Storage
To Restore/Recover deleted contacts from iCloud Storage. Follow all the steps above. But, when you tap on Advance under setting. Then, select Restore Contacts to recover all your deleted contacts on your iPhone.
Note: You can recover/restore all your data, files, contacts from your iCloud Storage. But, the moment you deleted your files, use the steps above to recover your files as soon as possible because your deleted files are present for 30 days under restore tab of your iCloud storage.
Conclusion
Hope this trick helped you in recover your deleted files, data, contacts from iPhone. If you face any problem while recovering your files, then don't hesitate to comment below. And don't forget to share this article.
Was this article helpful?