Hello friends, Today I will share ten best Winderlist alternatives. Users can use these alternatives as a replacement to Wunderlist. I have also shared several features of these alternatives. Best part users can use them on their PC/Laptop or Android/iPhone. Majority of these alternatives are free.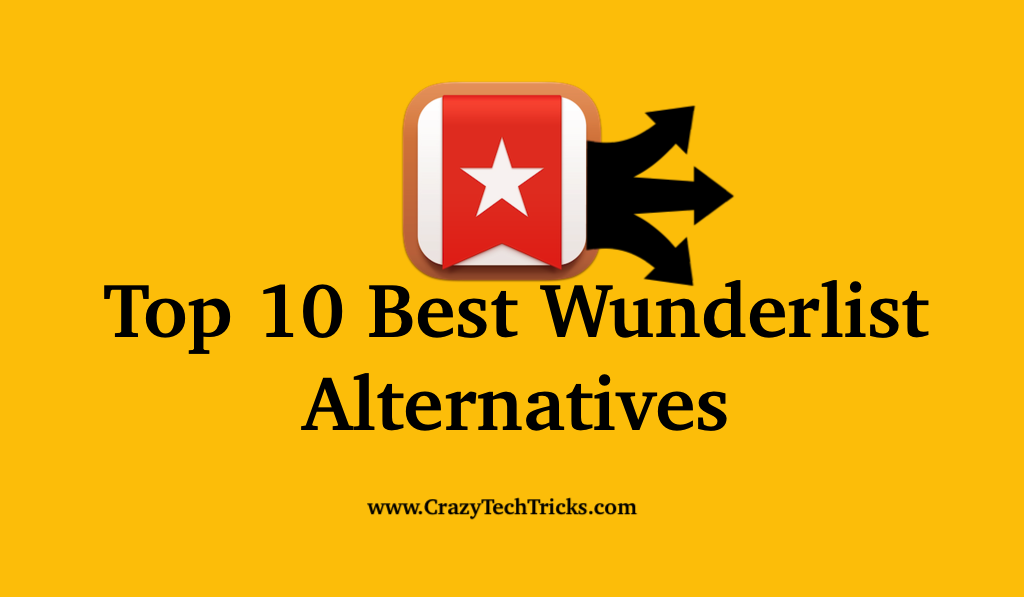 Wunderlist was fast and easy for many purposes, such as flagging tasks which could be done using a push-button only. Though it is discontinued, its existing users still can access their data and shall import their data to other platforms i.e. Wunderlist Alternatives; Microsoft recommends 'Microsoft to do'.
Top 10 Best Wunderlist Alternatives
Wunderlist has been the favourite for everyone and it's true that no app shall replace it. Since it has shut, we are presenting here Top 10 Wunderlist Alternatives that are compatible with every platform(iOS, Android, Windows, macOS, and Web) and you can choose it for your daily task management.
Read more: What is Microsoft Teams
Best Wunderlist Alternatives
I will share all the alternatives with their best features. Users can decide themselves which Wunderlist alternative they want to use for their work.
Microsoft To-Do
Todoist
Google Tasks
Any.do
Hitask
nTask
MyLifeOrganised
Timely
Evernote
TickTick
---
1. Microsoft To-Do
Microsoft To-Do is developed behind Wunderlist by the Microsoft team and is integrated with Office 365. It is also a cloud-based task management system that lets you organize and prioritize your tasks. You can list your tasks as projects and then add tasks in lists. It has even got integration with Outlook, Microsoft Launcher, and even allows you to manage tasks with ease and that too free of cost. Microsoft To-Do is the Wunderlist of the coming future.
Read more: Best Remote Conference Software
Microsoft To-Do Features
'My Day' feature that shows you the tasks for the Day
Task reminders
Custom task lists and themes
To-Do suggestions
Task priority level, color- labels
Free for everyone
Office 365 integration
Multi-platform and multi-device sync
---
2. Todoist
Todoist, no doubt, is one of the best task management application which is one amongst the best Wunderlist Alternatives. It has amazing features that let you track your progress. It is quite powerful and provides a premium plan with $3/month.
Read more: Features of Microsoft Office
Todoist Features
It offers a vast library of project templates
Availability of free version
E-mail notifications and SMS reminders
Customizable features
Project progress tracking
Online project sharing
Contact list integration
Sharing controls
Open API
Automatic Backups
---
3. Google Tasks
Google tasks is related to the amazing family of incredible Google Products. It's certainly the best task management application out there currently. It is completely Free. G-Tasks has very easy to use interface that is simpler and beautiful.
Read more: Best Calendar App for Windows
Google Tasks Features
Tasks from e-mails
It is totally free
Minimalistic UI
Multiple task lists
Best for simple to-do list management
Sub-tasks
Additional notes on tasks
Synchronization with Gmail and Google Calendar
---
4. Any.do
Any.do is another option in the list of Wunderlist Alternatives that one can go for. It has all the major and great features of Wunderlist! What else are you searching for?
It even lets its users divide their tasks lists into sublists and provides support for other platforms too. Also, it allows you to add comments to your tasks and set reminders for them. Its basic version is free for all. Meanwhile, the premium/business version costs $2.99/month and $26.99/month.
Read more: Best TeamViewer Alternatives
Any.do Features
Multi-platform support
Attaching files with tasks
Recurring Task Management
Shareable to-do lists
Task notes and sub notes
Multi-device sync
Daily planner
Automated reminders
Different colors for prioritizing tasks
Customized themes
---
5. Hitask
Hitask, yet another in the list of Wunderlist Alternatives, is a task management app that is quite easy to use and it has robust enterprise features with simplicity like sharing of task-lists, tracking time, and progress, etc. You can also organize your tasks as projects, and share it with others also. It also has both plans, free and premium which cost around $4.98/month for Team business and $12.98/month for enterprise purpose.
Read more: Best Free Email Tracking Tool
Hitask Features
Organizing tasks, projects or events,
Storage for documents
Shared calendar
Selective sharing options
Time tracking
Assignments and reports
Notifications
Team chat
Sub-tasks and hierarchy of lists
Applying tags and putting deadlines for certain tasks.
Multi-lingual
Exporting of data
Integration with Outlook
---
6. nTask
nTask is a free Wunderlist Alternative that helps you deal with your regular to-dos more efficiently. It has a default time tracker that helps you take better decisions associated with your tasks. It offers unlimited workspace, unlimited tasks, and meetings, timesheet management, and more. It has a paid plan too that offers unlimited projects beginning at $1 per user/month.
nTask Features
Schedule recurring meetings
Recurring task management
Effective time tracking using timesheets management
Automated weekly task tracker and timesheets
Notifications and reminders dor various tasks
Third-party application access
Integration with Slack to turn comments into tasks
It also has a web version along with iOS and Android applications
Simultaneous manipulation of  multiple tasks using Team specific workspaces
Meeting management module that helps Teams stay in sync with scheduled meetings
---
7. MyLifeOrganised
MyLifeOrganized is personal organizer software that lets you create elegant to-do lists for you to focus on your daily goals. It is yet one of the other Wunderlist Alternatives that even enables you to organize your daily goals in a tree structure. It has a simple drag and drop interface that lets you rearrange your tasks within a plain list. MLO has both free and paid versions. The paid package cost around $29.99/month.
MyLifeOrganised Features
It is best for Business owners, IT specialists, project managers, teachers, and coaches for the following features:
Location-based reminders
Sync with device's storage and MLO's cloud storage too
It lets you create tasks using your email
Bookmarks
Schedule outliners
Widgets
It provides calendar views, custom views, and active actions
Documentation training
Custom themes
It comes with percent complete tracking
It is compatible with all the platforms
---
8. Timely
Timely is a time tracking application that helps you keep a complete record of your time without any hassle of manual timers. It is best for people who have their own business or are working as freelancers.
Timely Features
Timely offers a free trial for its users and then needs the user might need a monthly subscription of $7/month. It has the following key features:
Ad-free and is private
It lets you manage team projects effectively by tracking the team progress
It is compatible with all the platforms
Provides online support and training modules
It keeps a database for employees
Calculates your overtime
Time-sheet management
It keeps a track of your vacation
Powered by AI
---
9. Evernote
Evernote is one of the best apps for note-taking and tasks organization. It helps you in prioritizing your ideas & to-do lists and keeps you organized. It also helps in collaborating with your team. It also offers 10 GB monthly note uploads and notes upload size of 200 MB.
Evernote Features
Its key features include:
Multi-device sync
Document scanning
Handwriting search
Document and pdf searching
Adding web clippers
Mobile offline notes
Larger cloud storage
Presentation mode for notes for full-screen layout
Note history for reviewing the previous changes
---
10. TickTick
TickTick is another application working on the same principle as Wunderlist. It brings in major features like delegating tasks for various members of the team, sharing of the documents and lists with other users for collaboration, commenting on the tasks, setting reminders, etc. It is also both free and paid. You can update to the Pro version at $27.99/year or $2.99/month.
TickTick Features
Its major features include:
Customized to-do lists
Integration with Outlook and Microsoft Launcher
Siri Integration
Checklist description
Custom smart lists
File sharing
Drag and drop tasks to calendar
Advanced project statistics
Progress tracker
Data Back-up
---
Conclusion
In the market, there are several other Softwares available. But these Wunderlist alternatives are easy to use and best in terms of services.
This article provides you a list of Top 10 Wunderlist alternatives that might be helpful for you in choosing another task management application in place of Wunderlist. Every application is unique on its own and has the motive to satisfy the needs of its user. Some of the above-mentioned applications are totally free; meanwhile, some are paid too. You can choose any of them as per your requirement.
Was this article helpful?