I will share what does the Keyboard shortcut Ctrl+Z do and what is the opposite of that key. I will also share the keys of Windows and Mac keyboards to undo the things.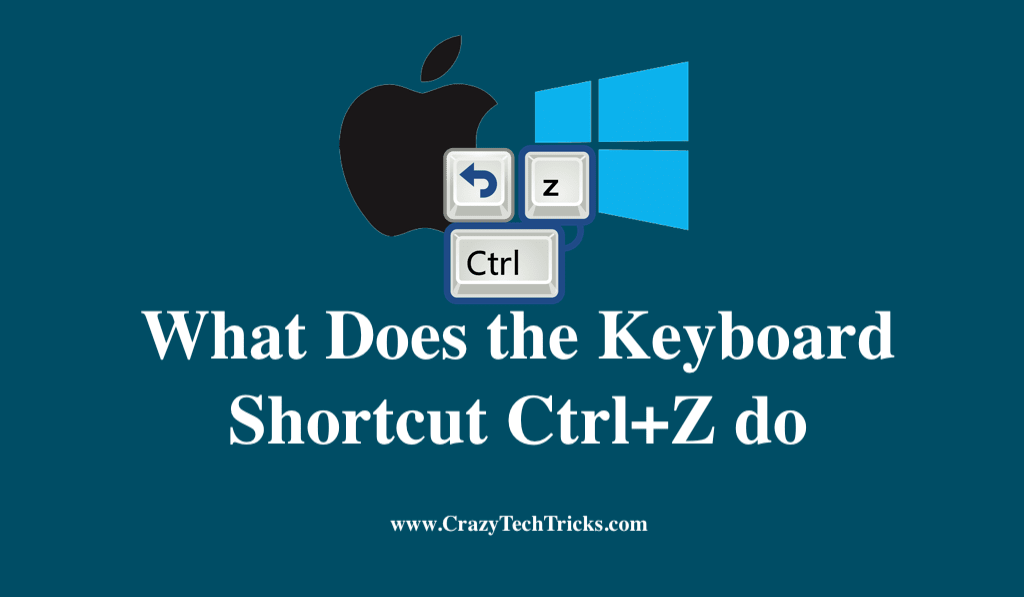 Keyboard shortcuts are often the most efficient and time-saving means of doing tasks. Now, if you are typing anything on your desktop and you make a mistake, many of you will place the mouse pointer over the error, select it, and then use the backspace key to reverse the error.
While many of you will be looking for a shortcut way to undo it quickly. In order to facilitate your work, the Ctrl + z shortcut was created.
Read more: Where is Hashtag on Mac Keyboard
What Does the Keyboard Shortcut Ctrl+Z do
In Windows, the keyword shortcut Ctrl+Z is typically used to undo the most recent action that has been carried out on the operating system. For instance, if you made a mistake while painting in MS Paint and ruined your work, Windows provides a feature that allows you to undo the action. You will just have to press ctrl + z and it will get reversed.
Read more: Kodi keyboard shortcuts for Windows
C-z, z, and Control+Z are other common abbreviations for it. Moreover, when you hit Ctrl+Z to undo something, it does not necessarily mean that it will just reverse things once rather, it can reverse things more than once. Also, When using an Apple laptop or PC, you can undo a move by hitting the Command+Z key combination.
Origin of keyboard shortcut Ctrl+Z
Software pioneer at Xerox PARC in the 1970s and 1980s developed Z commands as an undo command for text editing. Similarly, ctrl+y, c, v, etc. are additional shortcuts created by the pioneers of the qwerty keyboard. It was a reasonable decision to arrange these keys together because, on QWERTY keyboards, they form a sequence.
Read more: Google Meet keyboard Shortcuts
Afterward, it was first launched in 1992 in windows 3.1 which was the first version to have the Ctrl+Z keyboard shortcut for reversing changes. The name of the pioneer is Larry Tesler who deserves the credit for making our work easier by creating this shortcut.
Other uses of Ctrl + Z
In addition to its Undo function, its keyboard shortcut can undo a number of operations all at the same time, allowing you to go back through your most recent actions. Typically, if an application supports Ctrl+Z, it also supports the ability to undo several changes simultaneously. These are:
Any web browser, such as Chrome, Edge, Firefox etc allows you to reverse a modification you have made to a form or text field by pressing the Ctrl + Z keys simultaneously.
Ctrl+Z is the keyboard shortcut used to reverse changes made to a presentation in Microsoft PowerPoint. Moreover, you'll be limited to a maximum of 20 undo in the PowerPoint.
Microsoft Word offers the option of undoing changes made to documents using Ctrl+Z.
With Linux and Unix, the ctrl+Z command-line shortcut allows a temporary halt to be requested with a TSTP signal.
If you make a modification to a spreadsheet in Microsoft Excel or any other spreadsheet program, you can undo that change by pressing the Ctrl and Z keys simultaneously.
Read more: How to Use Phone as Keyboard For Laptop
How to Perform a Redo using Keyboard Shortcuts
Similar to how hitting Ctrl+Z is used to undo actions in Windows, using Ctrl+Y allows users to redo actions in Windows. As an example, let's say you're painting on MS Paint to create a landscape. As you were creating the landscape, you realised you had made a mistake, so you used ctrl+z to undo it.
The very next moment, though, you realised that what you have first done was the correct pattern. Therefore, for that in order to redo your step, you can hit the ctrl + y key simultaneously.
Read more: How to Use Virtual Keyboard Windows 10
Conclusion
In addition, hitting Ctrl + Z at the command prompt stops all presently running activities permanently. This may be beneficial if the process is lengthy and you want to study a certain point without waiting for the entire process to complete. SIGTSTP is the signal it uses to accomplish this.
One thing to keep in mind is that using ctrl+z will only be one step back involved at a time. Also, If the keyboard shortcut Ctrl+Z has not been used, pressing Ctrl+Y will not function because there will not be anything to redo. Moreover, it is compatible with the majority of programs, such as word processing software, Photoshop, and video editing software.
Was this article helpful?