You can use these 4 methods to cheat in Kahoot and get all the answers. These methods will work on an online browser and Android or iPhone. You can bypass the timer and give all the correct answers.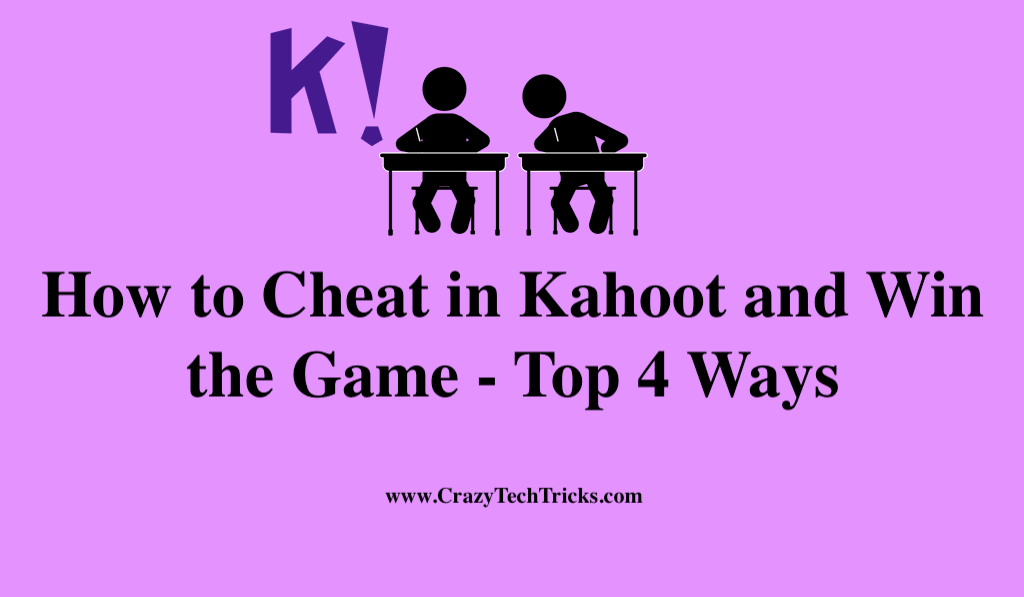 As you might be familiar with the world of technology, you must be aware that it is difficult to eliminate technological vulnerabilities. But even though Kahoot is an excellent and 100 % secure educational platform, there can be some kids who might be hunting for the cheat in Kahoot and win the game.
How to Cheat in Kahoot
It's not a good idea to cheat on Kahoot because it is an educational platform that carries a lot of danger while cheating and it is also bad for your career.
However, there will always be some student who is looking for a way to cheat Kahoot and win the game through the use of a third-party method. Using a third-party service raises the risk of viruses infecting your system or stealing your personal information.
Read more: How to Make a Kahoot Game Pin on Android
Therefore, it is essential that you give due consideration to these cautions before moving forward. Moreover, there are various methods by which you can cheat in Kahoot and win the game. These are:
With Chrom Extension
Using two browser tabs
Using VPNs
Kahoot Ninja
Method 1. With Brower Extension
Participating using the Chrome browser makes things much easier. In addition, visiting certain websites that help cheat games online for you is a convenient option.
Basically, the Kahoot hack is a Chrome extension that allows you to cheat Kahoot with any Chrome browser that supports chromium extensions. There are a variety of Chrome extensions available, such as the Kahoot Flooder and the Kahoot Bot.
Read more: How to Download Games from Humble Bundle
Method 2. Using two browser tabs
In Kahoot, cheating using this strategy is incredibly easy. To do this, you simply need to open two new tabs on your browser. And after that, you can open one tab for your official page on one side of the screen, and on the other, you can have a game in which you can only acquire the answers to your questions.
By doing so, you will be able to quickly and conveniently obtain a response to your question.
Method 3. Using VPNs
Even if Kahoot is becoming better, using the same search engine may still result in an IP conflict. In order to avoid this, you can use a VPN and at least two different web browser extensions. Now, By using a virtual private network, or VPN, you can change your IP address. And once your IP address is changed you can easily cheat Kahoot.
Read more: How to Play Vampire Survivors for Free
Method 4. Kahoot Ninja
Kahoot Ninja is another easiest method to cheat in Kahoot and win the game. Additionally, you have the option of purchasing a VIP membership to it which grants accessibility to answers. In the same way as other websites, Kahoot Ninja is also ranked as one of the riskiest third-party cheating sites.
Click on the link to visit Kahoot Ninja. 
Enter your Game Pin and Name.
Insert your Kahoot account and passcode to obtain an answer.
Finally, click on the Start Hack button.
Read more: How to Gameshare on the PS5
Method 5. Kahoot bot
Kahoot bot is one of the great techniques if you want to cheat by pranking on your educators and your buddies. It is used to disrupt student participation in active educational tests. Moreover, It is one of the most entertaining and brilliant ways to cheat.
Go to Kahoot Bot site.
Enter both the Pin and Prefix.
Select "Send Bots" from the menu.
Now, once the message will get sent, it will overwhelm the game.
Read more: How to Fix Xbox Game Took Too Long to Start
Conclusion
There are also various different ways other than this to cheat in Kahoot and win the game besides this one. Among them, a number of the websites have been banned since they are not very dependable. Moreover, Several games are available for free on Kahoot, which you can use in your classroom or on social media platforms to increase student participation.
Was this article helpful?