Let us check the top 10 best Android P features. All these Android P features are unique and make your Android Smartphone different from before. There are a lot of changes in Android P. A completely new design has been given to User Experience and several upgradation of softwares. Android P also has several security features to keep your Android Secure.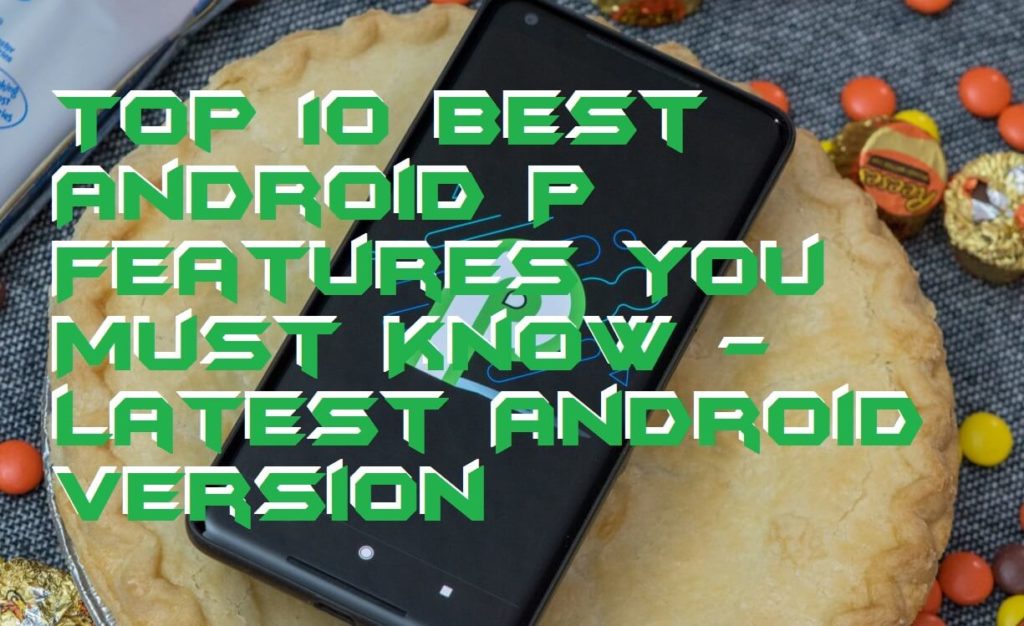 Android Oreo to Android P
The Android Oreo was released on 21st August 2017, and months later, Google just now introduced Android P with a developer preview version. Currently, only 2% of the peoples have and use Android Oreo. It looks likes Google is in a rush and want to tell everyone that they are doing their job by releasing new Android Versions very quickly. But, it is not a stable release. It's just a testing or beta version which Google has recently released.
Read more: kitkat vs lollipop
Nowadays, in 100 persons only 2 of them are using Android Oreo. But, instead of that Google launched Android P Developer ROM. Well, it was evident that till now only Google Pixel mobile phones are going to use this Developer Preview version of Android P. Users can easily flash this developer ROM manually in Google Pixel phones which are Google Pixel, Pixel XL, Pixel 2 and Pixel 2 XL only. After Android Oreo, Google has now just launched the Developer Preview  Version 1 of the latest Android Version which is Android P. In Android P; Google has implemented some new and unusual features which we should know. So, in this article, I am going to show you what the top 10 best Android P features are? Keep reading the article for more information.
Top 10 Best Android P Features
Android P has many amazing features. But, I have mentioned top 10 best, and main Android P features that you must know. Android P features like Indoor positioning, display cutout, HEIF image compression, and etc. We will discuss the 10 most exciting Android P features and describe them briefly. I will suggest you read this complete article on Android P features until the end.
Native Support for Notches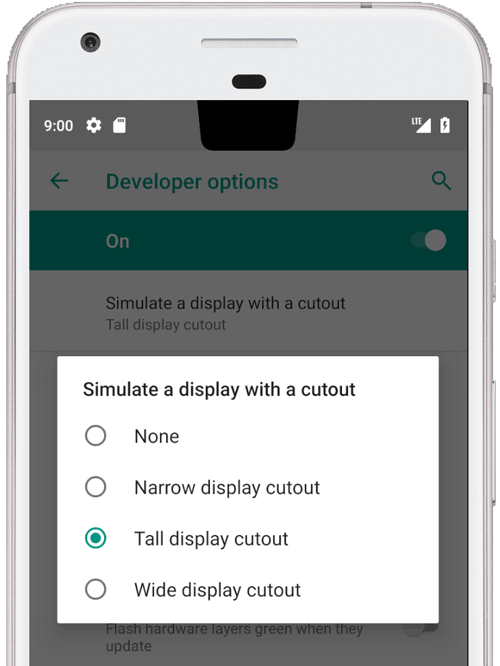 Android P is offering the support for edge to edge screen display for camera and speaker. The native edge or display cutout will help you to find the location and shape of the additional area where the content should not be displayed. Like iPhone, Google wants to help app developers in adopting the notch trend. And Google knows that from the year of 2018 it's going to be a year of notches. The good part is that this cutout can be customized by any Android P user because it has inbuilt settings.
Read more: How to Downgrade Android Version
Changes in Notification Panel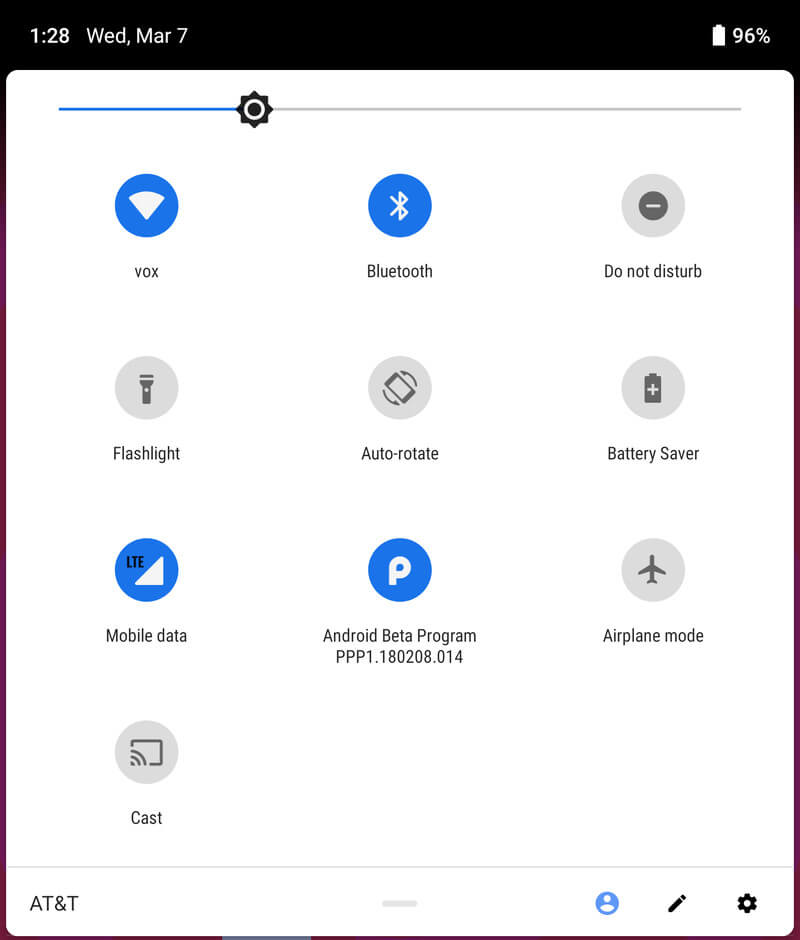 Till now, the date & time and notification icons were on the right side. But, in Android P this has been changed. Now, the date & time will appear on the left side. And, the notification icons will appear on the right side (as it was). Moreover, the design of the notifications is in the rounded shape. Also, the background of the notification has been changed to white color.
Icons of the notifications are also changed to colorful icons. Notches in the notification are also very friendly. Any notification will appear by leaving the Notches area. You can also make a smart reply to any SMS's from the notification panel. Even you can see instantly quick response to your emails from the notification panel.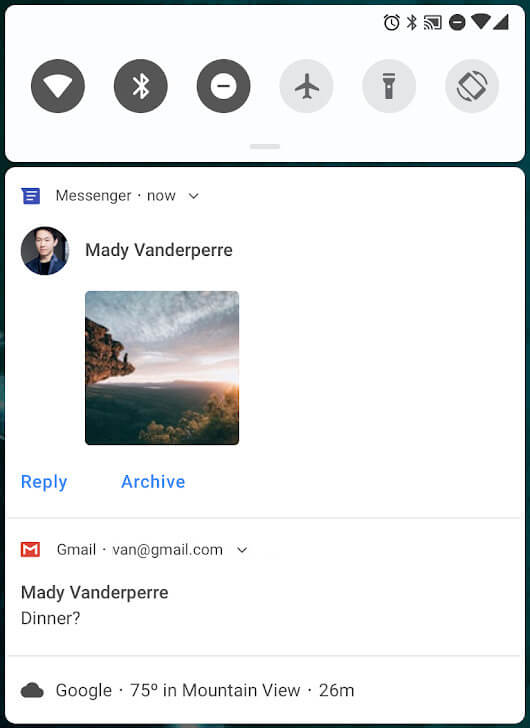 Changes in Dock
In Android P, place of the dock has been changed. Now, the dock will have soft keys, home icons, and search bar. In the dock's search box the voice search functionality has also been improved. So, it will be easy to search anything using the dock. Also, Google has given cloudy background to the dock. Previously the dock was having no color or either having black/blue color. Where in some Android phone, the dock was fully transparent. Later on, the dock appearance has been improved, and in Android P we are going to see a brand new look of the dock function.
Changes in Power Menu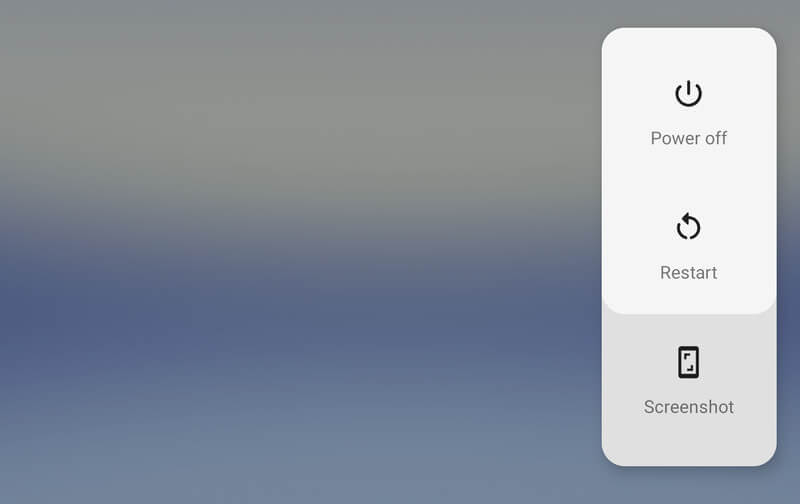 Currently, when we hold our Power button, then we get some options that are Power off, Restart, Airplane mode, etc. But, in Android P the power menu has been entirely changed. Now, Android P users will get only three options on the right side in their screen. Also, an extra option which is the screenshot. It has been added to the power menu. Along with the screenshot option, users will get only the options for power off and restart function. Moreover, the appearance of the power menu has also been changed. Android P users are going to see the power menu options a white background with the rounded shape.
Changes in Volume Slider Menu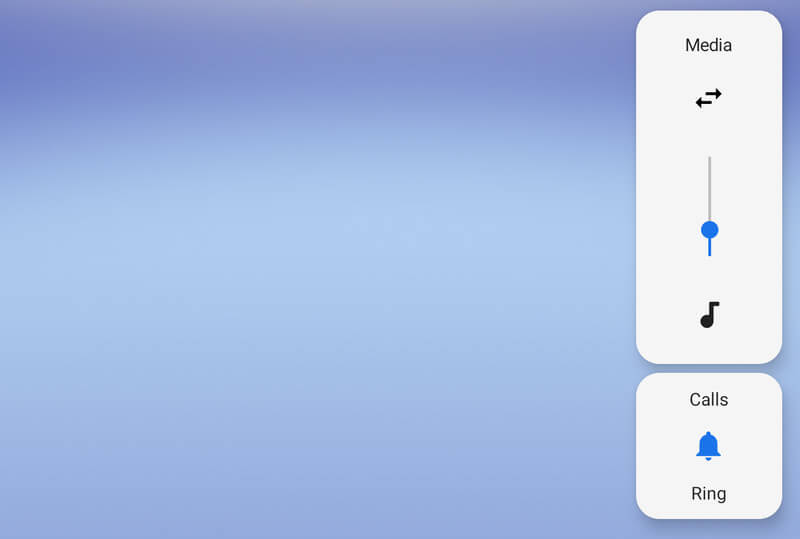 Until Android Oreo, functionality and menu option of Volume button was standard. We were doing volume up & down with our volume button, and the appearance was on the top of the screen. But, in Android P while we press volume button then as same as power menu, the appearance of the volume menu will be on the right side. If we talk about the look of this new volume slider menu, then it is similar to power menu appearance. Google changes the background color of volume slider menu from black to white. The slider will be of toned blue color which is giving a pretty fresh look to the menu.
Multi-Camera API
Users of Android P can easily access two or more real camera simultaneously in streaming. Innovation feature like bokeh effect, a stereo vision which was unable to do with a single camera can be now done by using multi-camera API functionality in Android P. Now, in Android P, dual back and dual front cameras can be used simultaneously. Also, multi-camera API can help us in capturing a photo with both the cameras of our Android phone which is the primary and secondary camera. Using multi-camera API does not require any particular brand's camera or hardware to click front and back sided image from front and back camera simultaneously.
Indoor Positioning with Wi-Fi RTT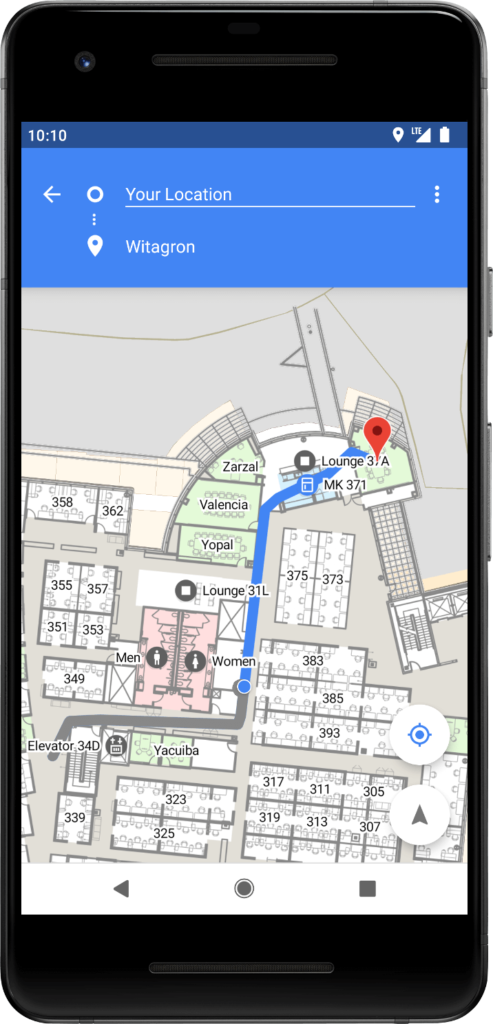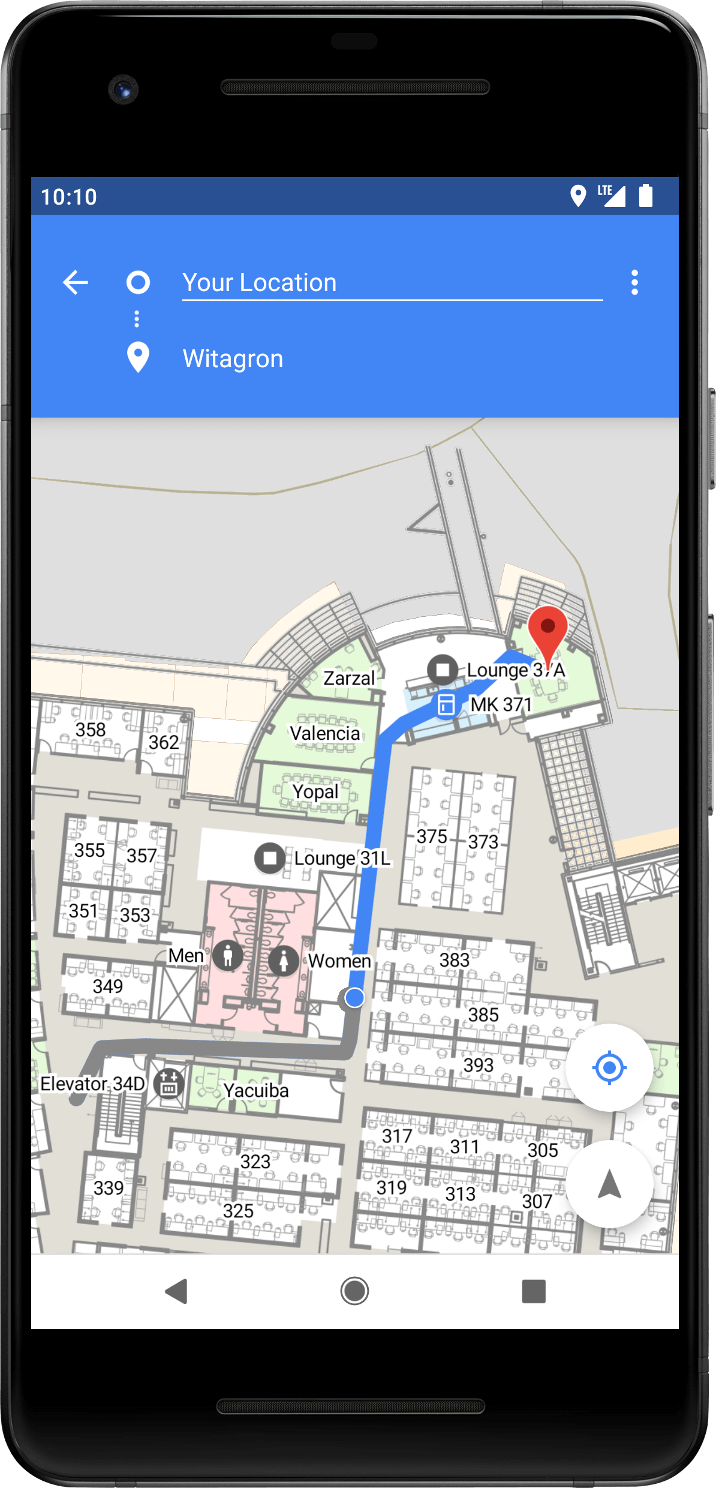 Android P has added RTT (Round Trip Time) feature which will help us to take advantage of indoor positioning. Using RTT feature, Android P will show us the exact shop in any Mall. It was not possible until Android Oreo. But, in Android P we are going to get this RTT feature. We can take help of the indoor positioning feature to point a particular shop in a mall or a small area. However, Google has added this feature in Android P with taking care of our Privacy. To determine the distance of a nearby place only the phone and the app will be responsible for location access. None of the Android P users have to connect the phone to APs to use this RTT feature in Android P.
Read more: How to Remove Spyware from Android Phone
Restriction on Accessing Microphone & Camera 
Android P has introduced a new security system that will block access to camera and Microphone. Most of the people claim that company like Facebook, Amazon listen to our words through the microphone and shows that product on Ads. By this user easily purchase items which he/she was talking. But, Google has now fixed this manipulation by restricting microphone and camera access in our Android from these Apps. The Android apps that are requesting for permissions to access irrelevant things now they cannot do this any longer. From Android P, this system is going to be banned.
AI Support & Neural Networks API
In Android Oreo Version 8.1, Google introduced neural networking API. This feature is for developers which gives hardware back tools for machine learning. But, in Android P Google has improved this Neural Networking API functionality and adds 9 new operations like mean, div, sub, etc. in it. Using this fantastic feature your Android phone will be able to understand what you are looking for on your phone quickly and it will also catch your phone usability pattern. An Artificial Intelligence API support will do this on your Smartphone.
Read more: Samsung Galaxy S9 Advantages
HDR VP9 & HEIF Support
Image file compression system which is HEIF (High-Efficiency Image File) will also be supported by Android P. Basically; Android P will support HEIF as a native HEIF image compression system. If anyone is sharing an image from one to another Android phone, then the compression will be in HEIF system. Also, the quality will not be disturbed. In fact, photos that which will be clicked by us will also take less memory, and the quality will be same as it should have. Although, accessing HEIF supported image will be very easy and faster.
---
Conclusion
We have just now gone through the top 10 best Android P features which we must know. Well, there are more than 20 of the Android P features. But, we have seen only top 10 and best Android P features. Android P is only available in Google Pixel phones. To view these features, you can flash Android P ROM manually. Share this article with your friends and tell them to know the top 10 best Android P features. Tell us your favorite Android P features in the comments section.
Was this article helpful?