Yes! Downgrading Android version is possible. You can downgrade android version on any of the Android devices. You can uninstall marshmallow and install lollipop, KitKat or any older version of Android you like. I have shared best possible method below to downgrade android version of your Android smartphone. Users can downgrade or even uninstall system updates from their Android Phone.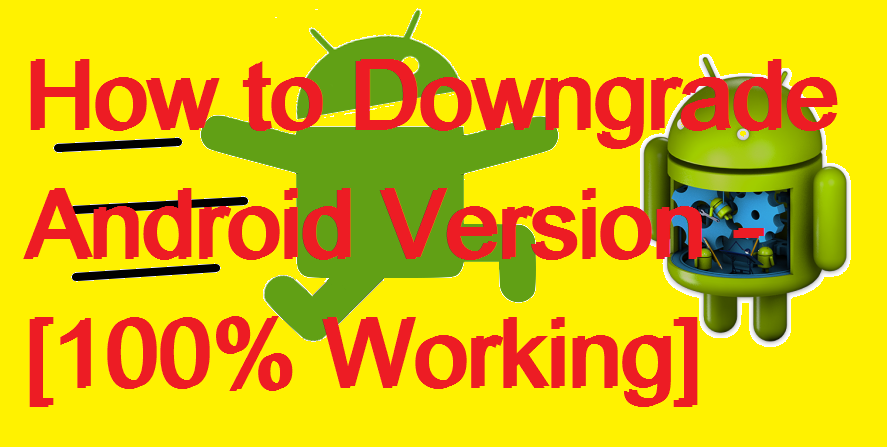 How to Remove Marshmallow – Android Version
Downgrading Android means to change your system setting to that of an older version. An example of downgrading is going from the latest Marshmallow 6.0 to older lollipop 5.0 version. Many of you may have heard of downgrading the Android version which many people seem to opt for from time to time. However, did you wonder why they felt the need to do that? Some of the reasons could be battery drain and heating of device, force closing of the device, and many more.
Read more: Top 10 Best Android P Features You Must Know – Latest Android Version
How to Downgrade Android Version
We are now going to see the official method to downgrade any Android mobile phone easily. Let me tell you that basically, you have to do it manually which is called ROM flashing guide. Yes, we have to flash the previous version of Android ROM on our Android phone. It is the only way to downgrade android version on any of the Android phone. Well, it's a risky method but only if you made a mistake. But, don't worry the tutorial is here. So, scroll down the step by step guide is here.
From the settings page, not down your phone's model number.

Now, get the flash file of your previous Android version from internet.

Also, get the driver package tool from internet according to your device brand name.

Now, installing all the drivers on your computer and connect your Android to it when its switch is off.

Lastly, using that tools directly flash the flash file on your Android.
That's it. Now, your Android phone will start working on the previous Android version.
Note: This method is hazardous and will delete your all phone's data. So, make a backup of it and try it at your own risk.
Read more: kitkat vs lollipop – Top 10 Comparison [Which is Better Android Version]
Get Android Lollipop – Get Android Lollipop for PC [Nexus 4, 5, 7, 9,10]
You can quickly get Android Version 6.0 Lolipop for Samsung Nexus smartphones whether it is 4, 5, 7, 9, 10. To get Lolipop ROM for your Samsung Nexus mobile phones, you only need to go to the Samsung website. From there, you have to choose your exact model number and Samsung Nexus phone series number from the list. After doing that, you will get your exact lollipop ROM for your Nexus mobile quickly on your device. Lastly, extract that file and start flashing that ROM on your Nexus mobile phone.
Read more: How to Get Android P on Your Smartphone Now – Upgrade to Android P
Get Android KitKat – Samsung, HTC, and all other Android Phone
To get Android KitKat ROM for Samsung, HTC, and other Android phones you have to visit the official website of your Android phone's brand website. Once, you visit the site you can get your flash file of KitKat Android version from there. The thing which you have to remember is that the model number and series's serial number must be matched with the file which you have got from the website. You can flash this flash file which you have obtained from the official website of your Android phone's brand name using your PC/Laptop.
Read more: TOP 10 Best Free Chromecast Streaming Apps for Android/iPhone – 2018
Get Android Lollipop – Samsung, HTC, and all other Android Phone
It is similar as like we get KitKat for our Samsung, HTC, and other Android smartphones. You don't have to go to any third party websites or Android app. Head up to the official website of your Android smartphone's brand. For example, if you are using Samsung android phone then go to the Samsung's official website. Make sure that you note down your Android phone's model number and as well as the full name of the phone's series name. After that, from the official website get the flash file for it and flash it using computer or laptop.
Read more: Top 10 Android Apps
Conclusion
This was the best and official method to downgrade Android version. Using this method you can easily downgrade Android version. The only thing which you need is a computer, some software, flash file and an Android phone. Nothing else. So, did you find the method which I have discussed above helpful to downgrade Android version? If yes, then do share this article with your friends also so that they can also downgrade Android version if they do not like the existing one.
Was this article helpful?