Hello friends, Today I will share ten best remote conference software. Users can use this software for their office or online classes. I have shared all the free version of this software which will help the users to use them in their meeting. This software are available for all OS like Windows, Mac, iPhone, and Android.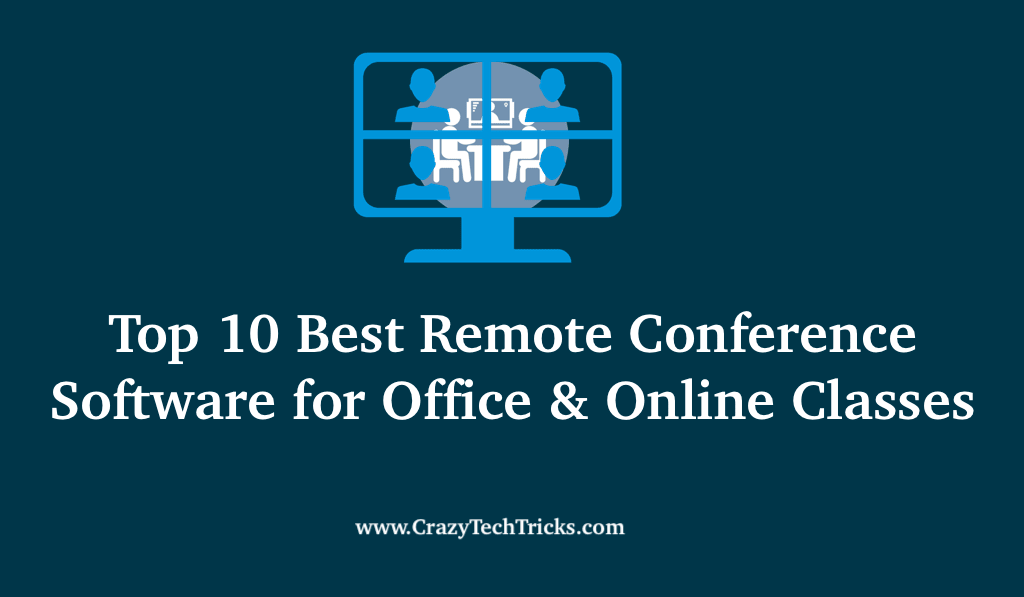 With the expansion of companies and corporations over the world, employees often need to communicate within themselves from remote geographical areas or locations. This popularized the usage of remote conference software where people from different locations can join in and discuss at the same time on a single platform.
The remote conference software transmits video or audio from the host to the attendees of the meeting or conference. This software is used by corporate meetings and conferences or even used for online lecture classes for students in colleges, universities, and schools. There is a range of software available in the market that provides different features and functions. We would be noting down the top 10 remote conference software present in the market that would be really convenient and useful as remote conference software.
Read more: How to Share Your Screen on Skype
Top 10 Best Remote Conference Software for Office & Online Classes
We would be listing down the top 10 remote conference software, and then we would discuss about them in brief.
Skype.
Google Hangout.
Zoom.
Ring Central Meetings.
UberConference
Cisco Webex Meeting.
eZTalks.
GoTo Meeting.
TeamViewer.
Apache Open Meetings.
---
Skype
Skype is undoubtedly one of the most popular remote conference software that is present in the market right now. It provides a conference call with 25 people at maximum. It is available as an application, and you can download it from their website. It is also available in the Microsoft Store in Windows 10.
Must Read: How to Delete Skype Messages
Skype brings the unique feature that is the presence of real-time language translation. This translation feature supports ten different languages that are Russian, English, German, Mandarin, French, Italian, Arabic, Portuguese, and Spanish. You can buy the premium service of Skype known as "Skype for Business."  The premium service of Skype allows up to 250 people to attend the remote conference.
Pros:
It is popular in the corporate industry.
Provides real time translation feature.
There are several Premium upgradation.
Up to 25 people on a single conference call.
Cons:
The Premium plan of Skype for Business would expire in the year 2021 and would not be available.
Skype really suites the small industry meetings and conferences and is also suitable for taking one to one calls.
Read more: Best Skype for Business Tips and Tricks
---
Google Hangout
Google Hangout is another remote conference software that is most popular with regular G Suite users. As for using this, you need to have an existing or new G Suite subscription. The subscription plans start from $6 per month and is pretty affordable for people working through the G Suite.
It provides unlimited audio conferences and the service is really versatile as it is available on almost all the major or prominent web browsers.
Read more: How to Use Skype Without Microsoft Account
Pros:
High Definition Video Quality
Free service for existing G Suite users.
Provides document and screen sharing.
Cons:
You would need to buy the subscription plan to use it.
---
Zoom
Zoom is another popular remote conference software. It provides free video conferencing and also paid subscription plans. For the free video conference, you get 40 minutes' time windows, and you can have more than 100 participants in the Zoom meeting. The premium packages of Zoom allow you to make a conference call for an unlimited minute.
Pros:
Popular
Easy to use interface
Provides video chat
Provides private chatbox
High Definition video quality
Screen sharing
Cons:
A 40-minute cap for normal or new users.
Security issue.
Read more: How to Delete Skype Chat History
---
Ring Central Meetings
RingCentral Meetings is made by Ring Central, company domination the market of VoIP. The remote conference software provides a basic 40-minute cap on the conference calls, and it provides free and unlimited one on one calls.
Pros:
It provides High definition video calling.
It provides screen sharing.
Available on different platforms.
Cons:
It also has a 40-minute cap on video calling for free service users.
Must Read: How to Control Android From PC Remotely
---
UberConference
Just like the RingCentral software, this is also developed by a VoIP provider, known as Dialpad. This moves from the regular platform-based software to a web application. It allows users to record their conference and provides at most 10 people to join in a conference.
Pros:
It provides a conference recording.
High definition video and audio.
Cons:
Read more: AnyDesk vs TeamViewer
---
Cisco Webex Meeting
Developed by Cisco, this remote conference software is really efficient in providing the range of services for the users. It gives flexibility to the users through its expansive and convenient free plan. Just like the Zoom, it also has a cap for 40-minutes for the video conference. But it also provides almost 50 people to join in a single conference and offers one GB of cloud storage for the session.
It offers additional features such as HD video quality and calendar add-ons for scheduling tasks and meetings.
Pros:
HD video quality.
Screen sharing feature.
It has calendar add-ons.
Better security through encryption of meetings and messages.
A central active speaker interface.
Cons:
A 40-minute cap on the free plan.
---
ezTalks
ezTalks is a web conferencing, and video conferencing software and is one of the best conferencing software as it provides free meetings and services up to 100 participants. Moreover, you can easily record your conference and you can also playback the conference. It also provides a whiteboard collaboration feature that multiple users can interact with to leave notes and updates.
Pros:
Conferencing free of cost up to 100 attendees.
It provides the facility to record the conference.
Facility to playback.
Cost-efficient
Cons:
You need a good internet connection.
---
TeamViewer
TeamViewer offers a really secure environment for video conferencing, and the security of the platform is condemnable to the Cisco Webex Meeting. It is available on different platforms such as Windows, MacOS, Linux, etc. It provides several add-ons that facilitate to the user experience of the TeamViewer.
Pros:
Greater security.
Good quality audio and video conference.
Chat box for chats.
Cons:
It has a subscription plan for intensive usage.
---
Apache Open Meetings
The Apache provides this remote conference software and also has one of the best free web-based conference services. It provides the basic functionality of screen sharing and chat boxes. The benefit that this particular software has is that it is open source. This provides the developers the source code to work upon and bring many more interesting features and add-ons.
Pros:
Chat boxes for messaging.
Whiteboard for notetaking.
Screen sharing.
Good interface.
---
GoTo Meeting
Another really popular conference software. It has one of the best and easy to use platform for a free user that makes making and hosting conference calls easy. Now, the interface might be convenient but for the free plan of the GoTo meeting, you can only have voice conferencing and you would need to upgrade to the subscription plan to access the video conferencing.
Pros:
Audio conferencing.
Available on multiple platforms
Cons:
Needs you to buy the paid version for the video conference.
You can only add up to 3 participants in the free version of audio conferencing.
---
Conclusion
There is several remote conference software present in the market right now, and we have listed the best 10 of them. Users can use this software to get connecting with different OS. You can use your Windows PC/Laptop to get connected with Smartphone users. This article will guide you through the merits and demerits of them so that you can choose one that is the best for you.
Was this article helpful?