These are the top 10 best TeamViewer Alternatives. You can use these TeamViewer alternatives on your Windows PC/Laptops. These alternatives are free, and users can use them on the desktop. You can remotely access anyone Windows PC/Laptops using all these 10 TeamViewer Alternatives. All TeamViewer Alternatives are best and have certain advantages over TeamViewer. I will suggest you check them all and find your best TeamViewer Alternative.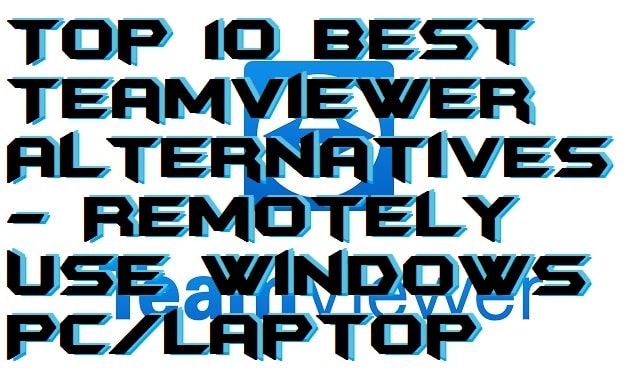 Accessing a computer remotely is a great way to manage files and folders from your Smartphone to Computer. For the developers, it is a fantastic way to keep in touch with the files which they need. Also, the developers will get an excellent way for the deployments. However, it also makes easy in accessing data centers. Although, most of the industries are currently using the remotely accessing feature. In providing this methodology, TeamViewer is the best. But, we also have to look for the alternatives of the best things too. Thus, here we will discuss the TeamViewer alternatives which you must check out.
Read more: Top 10 Best Putlocker Alternatives – 2018
Top 10 Best TeamViewer Alternatives
No doubt that TeamViewer is the best handy tool while getting started toward the methodology of remotely accessing computers. However, TeamViewer does not give the simple and reliable touch which are expected is from such kind of tool. Security is the essential thing which causes the removal of groups of users from TeamViewer if didn't configure carefully and correctly, however. If a user has not set every setting in the TeamViewer, then the user will be at risk. Also, TeamViewer charges some amount of free for business purpose. Where the individual or personal license is free to use. These reasons made TeamViewer alternatives to have a look at them.
Best TeamViewer Alternatives
Chrome Remote Desktop

LogMeIn Pro

Splashtop

Join.me

Real VNC

Windows Remote Desktop

Ultra VNC

Mikogo

WebEx Free

AMMYY Adminn
---
Chrome Remote Desktop
Chrome Remote Desktop is an application and a fantastic TeamViewer alternative which removes the time-wasting matter that is to install any software on your computer system. It is a free tool which is available for Google Chrome Browser as a Google Chrome Browser's extension. Chrome Remote Desktop does not require any operating system; it only needs the Google Chrome Browser nothing else. This add-on will allow you to access your computer for free remotely. However, if you do not want to leave your web browser and want a small add-on which helps you in remotely accessing computer then, this is the best. Although, it is straightforward to set up and to use.
Read more: Top 10 Best Tinder Alternatives – 2018 Must Check
---
LogMeIn Pro
LogMeIn Pro is designed to provide the remotely accessing functionality to individual and business both the purposes. However, the free version of this software has been stopped recently. But, it does not mean that it would be listed in the list of top 10 best TeamViewer alternatives. Because of many key features, it still serves these features as a premium TeamViewer alternative. Moreover, it offers unique outlook. Also, the pricing of this software is very less than TeamViewer. It also provides that features which you are not going to get in most of these kinds of software.
Read more: Top 10 Best Free Boomerang Alternatives – Email Productivity Tools
---
Splashtop
Splashtop offers free and paid both the services for personal and business use. Anyone can use its free service for personal use on a variety of computers. Setting it up on any operating system whether its Windows, Mac, Android or iOS its pretty much amazing and simple. The latency is minimum on the point of audio and video streaming. Though, you can easily enjoy your wishing media remotely. The experience of Splashtop is stunning. Also, it's a best-secured cross-platform. Thus, it can be easily nominated for the TeamViewer alternatives.
Read more: Top 10 Best Free Windows Magnifier Alternatives – Check Now
---
Join.me
Join.me is devolope signed by LogMeIn company. It is a premium software for remotely accessing computers which allows you to use a remote system in business meetings worldwide. The instant sharing tool of Join.me is fantastic. Also, in paid version user can add up to 256 members to join the conference. It is the best collaboration tool which is trusted by more than hundred universities and 500 companies. If you want to collab with someone else personally or in business, then you can use Join.me easily. Overall, it is best and easy way to connect with the people remotely. Though, it is an excellent TeamViewer alternative.
Read more: Top 10 Best Free Alternatives to Paint on Windows PC/Laptop – Microsoft Paint Alternatives
---
Real VNC
Real VNc is free and paid remote desktop client. It works on the Virtual Network Computing technology which is an open source technology. TeamViewer is much complicated in setting up where Real VNC provides a reliable and secure network connection to its users. This fantastic utility allows you to connect individually to any remote computer or connect multiple computers to a public IP address. It offers much reliability as compared to other software like this. Also, it provides some different features like encryption and collaboration tool which other software does not offer. Because of the cool additional features, it can be easily considered as TeamViewer alternatives.
Read more: Top 10 Best Hamachi Alternatives – 2018 Updated
---
Windows Remote Desktop
Windows Remote Desktop is an inbuilt feature which comes with Windows Operating System. Also, this is a free feature which can be used by any Windows OS user. Settings of Windows Remote Desktop can be found in the Control Panel in any Windows Operating System. The router of a computer needs to routed at port number 3389 to directly send the viewers to the computer network. However, multiple user connections are not involved in the functionality of Windows Remote Desktop Connection. For the beginners, it is the best example to learn how remotely accessing feature works. Where TeamViewer directly shows the advanced feature to the users. Though, in this case, it is a good competitor and a TeamViewer alternative.
Read more: Top 10 Best Fitbit Alternatives – Budget Fitness Trackers [2017]
---
Ultra VNC
Ultra VNC is another VNC (Virtual Network Computing) technology based tool. It is a free software which is developed for the Windows Operating System. Once the connection has been established, then the user can quickly work on the other computer system connecting both of them remotely. The best thing about this tool is that it allows users to transfer files where the tool is convenient and free. Its a complete and free solution which offers a simple setup to start using desktop remotely. Of course, its the fantastic TeamViewer alternatives.
Read more: Top 10 Best Chromecast Alternatives 2016 – 100% Working
---
Mikogo
Mikogo is a significant premium remote desktop tool for personal and business use. The price of Mikogo is a bit higher than other remote desktop applications. It a web-based tool so that no one has to install any plugin or software to use it. There are a variety of features which is offered by Mikogo. It is a great remote desktop solution for the conference, meetings, and more. It has VoIP chat protocol which none of the remote desktop application is going to give you. However, it's straightforward and easy to set up. Also, it saves much time as compared to others. It is a fantastic TeamViewer alternative.
Read more: How to Remotely Wipe Laptop Data if Stolen – Delete All Data Wireless 2017 [100% Working]
---
WebEx Free
WebEx is a free and premium remote desktop tool which will connect you with different peoples on the computer system through the mobile and desktop app. The hoster can share his desktop and pass the control of mouse and keyboard to other presenters. Face to face chat, text chatting, sharing files these features are involved in this remote desktop app. If someone is looking for the premium remote desktop app including some center of attraction, then he/she must try it. Obviously, WebEx can be taken as the best TeamViewer alternatives.
Read more: [Updated 2018] Top 10 Best Parental Control Apps for iPad – iPad Child Lock Timer
---
AMMYY Adminn
AMMYY Adminn is a paid and free remote desktop software available for personal and business use. This app is straightforward to use and lightweight. The size of this app is just 1 megabyte. However, you can not judge it according to its size. Because, in this application, you are going to get file sharing option, live chat option, and much more. It is very light weighted and easy to set up that is why it is on the list of top 10 best TeamViewer alternative. Moreover, it does not require any requirement to the user. Just head up on its website and get if for free.
---
Last Words on Top 10 Best TeamViewer Alternatives – Remotely Use Windows PC/Laptop
We have now check out some best and fantastic top 10 TeamViewer alternatives. This TeamViewer alternatives work well as similar as TeamViewer. Anyone can use them for remotely accessing the computer system. However, for personal use most of them are free. But, if you want to get anyone of them for business purpose, then you have to pay some amount of fee to get the business license for it. I hope you would like this list of top 10 best TeamViewer alternatives. Make sure that you share this article with your friends also. Your friends will feel amazed when they will see these fantastic TeamViewer alternatives.
Was this article helpful?