Use these 5 apps to crop videos on Android. All these apps are free to use, and you can download them from Google Play Store. You can even add a border or add an icon to hide unwanted objects/people.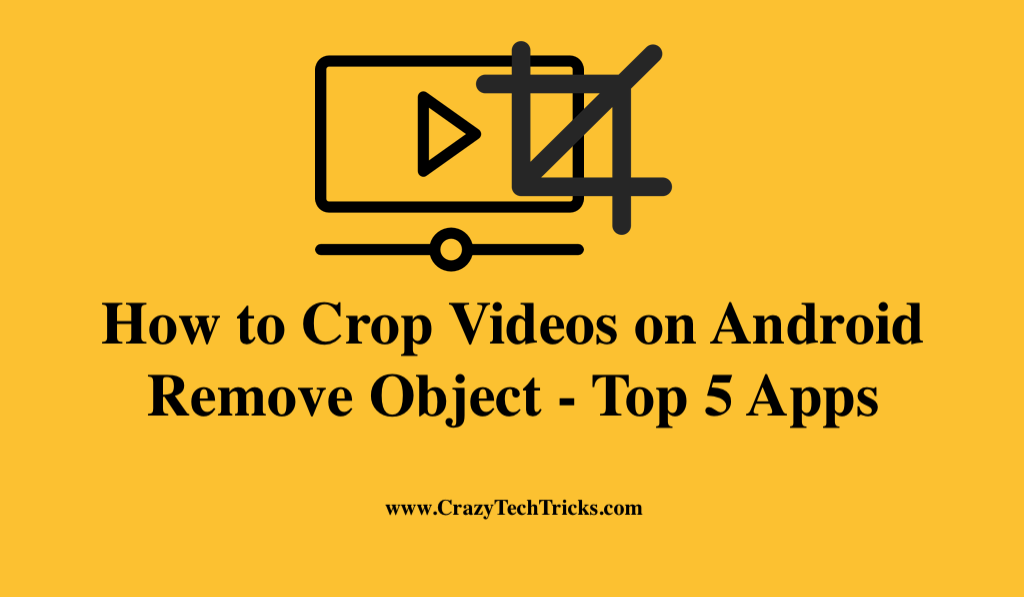 Sometimes you shoot a video of your friend and the video comes out very beautiful. But you find some unwanted objects or persons on the side of the picture.
Now you are in a situation where you want to keep this video but don't want to keep the unwanted objects appearing in the video. Now, the first thing that comes to your mind is Photoshop. But you are not so expert in Photoshop to crop unwanted objects.
So, in that case, you can even use the same Android device from which you have shot the video. There are plenty of apps which can crop the video very easily. So you don't need to be an expert. Download the app and start removing all those unwanted objects from the video.
How to Crop Videos on Android – Cut and from Sides
The majority of Android smartphones don't have the feature to crop videos. To complete this process, you will need to download an app from the Google Play Store. There is a video cropping app that is available for free, and there is also a premium video cropping app that can be purchased or rented.
Google Photos
Insort
FilmoraGo
Video Crop App
KineMaster
Read more: How to do a Remix on Instagram Reels
Method 1. Google Photos
Google photos app is one of the best free applications software to crop videos on Android. It is an inbuilt app and you can also download it from Google Play Store. It includes inbuilt video editing software. In addition to enhancing the background of your videos, you can adjust the margins of the videos.
Open Google Photos on your device.
Choose the video to crop.
Tap Edit in order to access the app's built-in editor.
Tap on the Crop.
Upon clicking a cropping box will surround the video. You will also see other options including 16:9, 4:3, and 3:2 aspect ratios for your presentation layout.
Tap on Save copy to save a copy of the video once you are done with cropping.
Read more: How to Play Background Music on Zoom
Method 2. InShot
This application is really simple to use, even if you are a beginner. With this application, you can edit and crop high-quality videos with your mobile device. Also, if you want to share your videos directly on social media sites such as Instagram and Facebook, you can do so with this app.
Open inShot on your Android.
Select the video to which you want to crop.
Tap on the crop icon from the list.
Set the place of the video which you want to crop.
Tap on the Save option once done.
Read more: How to Create your Own Stickers on WhatsApp on Android
Method 3. KineMaster
With KineMaster, you can edit videos with a professional level of quality. However, it is much more than merely a video editor. Having granular control over video clips and layers sets this Android app different from others.
Install and open KineMaster.
Tap on the new project option.
Choose a video ratio to crop your video.
Tap on the create option.
Select the video to crop.
Upon selecting a video, it will automatically crop that.
And then select the send an arrow icon on the right hand top of the screen.
Tap on the save as video option.
Read more: How Does Snap Score Work
Method 4. FilmoraGo
It is an easy-to-use app for cropping videos with additional video-editing features. Aside from controlling the videos, this software asks for much more. Memes, videos with photos, stickers, sound effects, and other video formats can also be created easily and quickly.
Download & install the FilmoraGo app.
Open the FilmoraGo app.
Tap on New project.
Choose the video in the timeline.
Tap on next, after choosing.
Now, choose Trim.
Now, simply select the Crop option in the trim menu. Now in the pop-up window, make adjustments to the cropping area.
Choose tick mark.
Tap on export to save.
Read more: How to Make a Video into a Live Photo on Android
Method 5. Video Crop & trim app
The Video Crop & trim App lets you crop videos and removes unwanted segments. Consider this app if you're looking for a more useful technique with a specific editing feature. Also, this app is free to crop videos for Android.
Install the link and open it.
Tap on video crop and choose the video you want to crop.

Now, choose the crop icon located in the right top corner.
Tap on the save option.
Read more: How to Take a Screenshot on a Mac
Conclusion
There are several more applications available on the Google Play Store. But the apps I have shared are the best and free to use. The best thing I like about these apps is that they don't require expert skills to edit images. Anyone can edit any video just by doing some steps.
Was this article helpful?