You can open Winmail Dat File on both Windows and Mac. I have shared free software to open unintelligible text on your Windows PC/Laptop.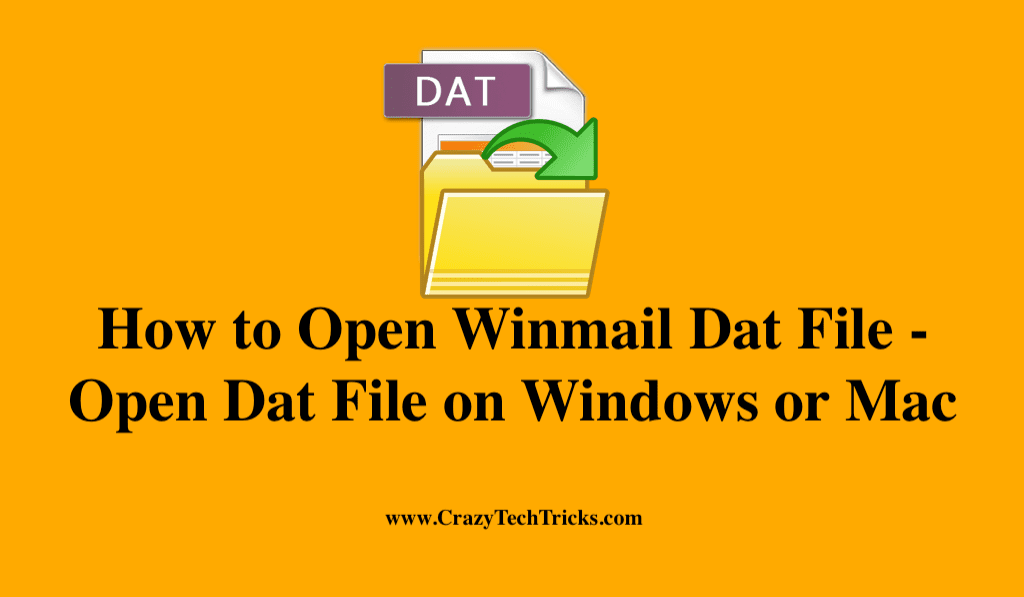 The "Winmail.dat" file is attached to many Mac Mail emails that are sent and received by Mac users who use Microsoft Exchange, Outlook, or other client software to communicate with their Windows counterparts. Unfortunately, Winmail.dat attachments can't be opened on Mac OS X due to the lack of an application to do so or because they're full of unintelligible text.
How to Open Winmail dat File on Mac
A Winmail reader is required to open Winmail.dat files on a Mac. Despite the fact that there aren't a lot of options, there are still some of the best Winmail viewers for Mac. Thus, Cisdem Document Reader is my preferred pick when it comes to opening Winmail.dat files on Mac, and it supports all of the W's attachments. So, let's get started with the instructions to open Winmail dat file.
On your Mac, download and install Cisdem Document Reader. It is safe and secure to install.
To open Winmail.dat on your Mac, click Open File or drag it there.
Cisdem Document Reader is now available for download, and you can quit opening winmail.dat files without viewing the files. It's easy to use, allowing you to boost efficiency dramatically.
Cisdem Document Reader's advantage:
ad-free, highly secure, and zero data leaks from your email.
It is possible to browse Winmail.dat without having to install it.
Open Winmail Dat file, such as Microsoft Outlook or Windows Mail batch processing of dat files.
There's no file size restriction, and it's simple to use.
Cisdem Document Reader's Disadvantage:
Read more: How to Recover Deleted Files
Open Winmail Dat file on Mac for Free
If you don't need to deal with a large number of files or open Winmail.dat files frequently on your Mac, the free TNEF's Enough program is an alternative. Open Winmail Dat file on a Mac for free with these simple instructions:
First, you need to download and install TNEF Enough Mac.
Use TNEF's Enough from the "Open As" option or drag and drop the Winmail.dat file into the application to import it. Download and save the file.
Simply double-click the attachment in the new window that appears, and it will be saved to your Mac.
Read more: How to Stop Store App Update Notifications on Windows
TNEF's Enough's Advantage:
It is completely free and you don't have to pay for it.
It is compatible with Mac, iPhone, iPad, and iPod Touch and is ad-free.
TNEF's Enough's Disadvantage:
Sometimes, Winmail.dat files cannot be opened.
Tech support is terrible.
Currently, the software does not allow users to directly access and view Winmail.dat files.
Read more: Where is the Windows System Registry Hive
How to open Winmail dat file in Windows 10
DAT files can only be opened with special software, an opener. This software allows you to read, view, edit, or convert dat files. Use it after downloading it. Let us follow the following easy methods to open .dat files.
Download the mail file to your computer's local drive.
Choose the search engine of your choice.
Enter Winmaildat.com into the search field at the top of the screen.
Choose a file by clicking the "Choose File" tab.
A new window will open.
Now, navigate around your computer to find the DAT file.
To upload a file, click on it and then click "Open."
Wait for Winmaildat.com to process the file after clicking the blue "Start" icon.
On the "Result" tab, you'll view the email's data after it's finished.
Select the file you wish to download to your computer by clicking on it.
Read more: How to Update Roku TV to Latest Version
Conclusion
There are, without a doubt, additional ways to obtain and install Winmail.dat on both Mac and Windows. I've mentioned a few of the above. However, we hope that the information in the preceding articles is useful to you, and we appreciate your time.
Was this article helpful?