I will share top 20 best website to learn PHP online. All these sites are free to determine PHP online, and you can use these websites to increase your skills in PHP. These websites also have practical courses. In which a user can create his PHP websites while learning the coding. The user can test his skills while they are taking this online PHP learning course.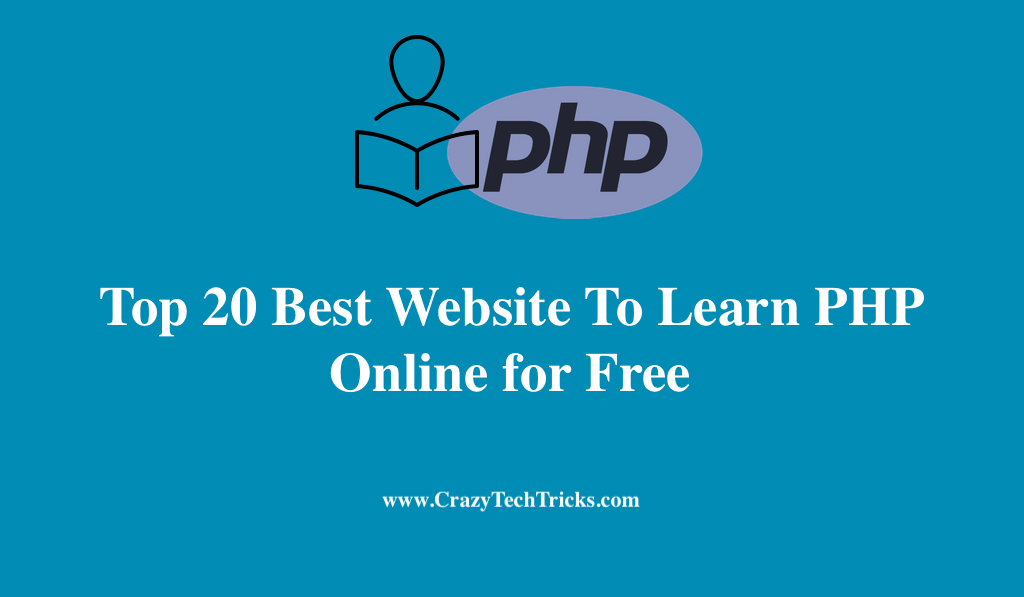 What is the best way to learn PHP
Enrolling in a professional coaching center for some month-long course, draining hundreds of bucks in the process, and going to class for 2 hours every day? What if I tell you that you can learn PHP by just sitting at your home all by yourself? That's right! You can quickly learn PHP from home sitting at your computer through some online websites. These online sites also allow you to test you kill immediately after reading the course. It means when you learn PHP and another side you even do it practically. I will share 20 best website to learn PHP online. You can use any site according to your feasibility.
Best Website To Learn PHP Online for Free
These are the best website to learn PHP online. We did a research and found these 20 sites or way to learn PHP online. Majority of this website are free. You can use these websites to upgrade your skills in PHP websites. We will talk about all these PHP teaching websites.
Learn PHP Online
List of 20 websites to learn PHP online.
PHP Manual
Codecourse
Killer PHP
Devzone
PHP Tutorial by Tizag
Stone River eLearning
Tutorials Point
PHPBuddy
Javapoint
SitePoint
PHP Tutorial by W3CSchool
Codeigniter
PHP Academy
Hacking with PHP
1Keydata
PHP 5 Power Programming
PHP The Right Way
Develop PHP
Code Academy
PHP Jabbers
So let's start this journey of education and watch out top 20 best website to learn PHP online and get your career on the road to coding.
---
PHP Manual
The best way to learn every tip and trick of PHP is via the official PHP Manual which is a comprehensive guide to PHP covering from the basics of the language to the advanced level stuff. Although formal in look and feel, this is the go-to guide if you want to learn anything about PHP. It is the complete guide you'll find about PHP in the market.
Read more: Best Free Boomerang Alternatives
---
Codecourse
Once known as the PHP Academy (popularly and literally), Code course has branched itself out into teaching other tools and languages too along with the PHP. The website provides tutorials in the form of video lectures which are among the best in the market and teach the language interactively and interestingly. You find their videos on their official website and their YouTube channel.
Read more: Best Free Windows Magnifier Alternatives
---
Killer PHP
The website takes their motto of teaching "Beginner PHP for non-nerds" to the word and teaches basic level PHP in a simple and easy-to-understand manner. If you find learning new computer language very hard for you, Killer PHP is the site to try out.
Read more: Free Malware Scanner
---
Devzone
Devzone is designed to teach extreme beginner level PHP to the learners. If you have just started to learn PHP and is well-versed with learning by examples, PHP 101 is the place for you. The tutorials featured on the site are very easy-to-understand and teach basic PHP in a fun and entertaining manner. The contents here are clear, short and to-the-point.
Read more: Alternatives to Paint on Windows
---
PHP Tutorial by Tizag
PHP Tutorial by Tizag is just like a textbook for PHP with definitions, codes, and references of all kinds related to the subject matter stored in it. This site is handy for efficient coding through PHP and people prefer to refer to the website for their everyday PHP related commands, queries, and references.
---
Stone River eLearning
Stone River eLearning provide tutorials of various kinds of tools and computer-related languages apart from PHP. Although not being specific to PHP, the course structure of Stone River eLearning covers almost all aspect of the subject from primary to advanced. The tutorials are video-based mostly. The best part of this site is their forum support which you can also contact via emails.
Read more: Android P Features You Must Know
---
Tutorials Point
Another website not specific to teaching PHP only but covering the topic in a manner making it worthy of our list, Tutorials Point covers the problem comprehensively and thoroughly. The site's teaching approach is unique and exciting. It is easier for the people to learn PHP in a way they can understand and keep a tab.
Read more: Best Paid Online Survey Websites
---
PHPBuddy
This site contains texts, lectures, videos, blogs, and lessons about PHP programming. It makes more comfortable for the person to understand PHP. The site focuses more on text-based learning than video tutorials. It contains screenshots of the commands and programs as an example and reference making the learning process easier.
Read more: Has my Email been Hacked
---
Javapoint
The Learn PHP Tutorial website contains hundreds of tutorial videos available for download.  The videos cover the basics of the language wholly and entertainingly making it an ideal guide for beginners of PHP. All the videos on the site are available for download for free. So, you get your visual PHP guide with no cost at all.
Read more: Top 10 Best 3D Games Android
---
SitePoint
SitePoint is the go-to website for people with a taste for learning by reading. It covers PHP by providing articles and blogs on the topic with examples, commands, and screenshots as references. This site is not recommended to you, if you are a beginner in the language as the contents in SitePoint is more technical and a bit difficult to understand at the beginning.
---
PHP Tutorial by W3School
PHP Tutorial by W3CSchool is almost similar to PHP Tutorial by Tizag in nearly all aspect. But what makes it worthy of the position in our list is the pretty good job done by them in providing a guide for reference while learning the language. The site also offers a certificate of the language at the cost of $95 which you can claim after learning the language and passing their online test.
Read more: Best Free Chromecast Streaming Apps for Android
---
Codeigniter
Once you have crossed the beginner level of the language and are looking for something to teach you the further complexity of the language, Codeigniter can be a perfect toolkit for you. I should warn you though that Codeigniter is not any tutorial or learning website. It contains an excellent framework to help you in the physical application of the language.
Read more: How to Receive SMS Online for Free
---
PHP Academy
PHP Academy and their YouTube channel is a fantastic place to learn PHP by visuals. The site contains videos of PHP codes being constructed and applied with live results being shown on another side. The videos are great for teaching you about potential errors and methods to avoid them. Some of the tutorials may come as outdated to you if you are an advanced level PHP coder. But the contents of the site are still good enough to grant it a place on our list.
---
Hacking with PHP
Don't go by the misleading name of the platform. The website doesn't teach you to exploit the loopholes in the language and perform hacking operations through it. The site contains decent tutorial contents aimed at teaching PHP to learners of all level with to-the-point topics and materials. And they do a pretty good job in it.
---
1Keydata
1Keydata is a website which provides a basic tutorial in PHP covering all topics from introduction for beginners to advance level programming. The tutorials here are mostly text-based and provide training on MySQL and PHP teaching all the basic commands, syntaxes, functions and more. You can also learn CSS, HTML, and database management from 1KeyData.
---
PHP 5 Power Programming
PHP 5 Power Programming is an eBook on the programming language which covers all the levels of the language including the beginner, intermediate and advanced. The eBook is available to be downloaded for free and is an excellent guide for learning PHP by reading. You can either buy a hard copy from Amazon or download the PDF version for free from here.
---
PHP The Right Way
The tutorials in PHP The Right Way are dedicated entirely to teach PHP coding. The site features extensive exclusive tutorials covering a range of topics related to PHP with multiple references to other useful PHP sites and tools. This feature makes PHP The Right Way a unique website and worthy of a place on our list.
Read more: Top 10 Android Apps to Try
---
Develop PHP
Develop PHP contains video-based PHP tutorials hosted on YouTube and embedded into the site. The materials in this site are categorized according to topics making. It is easier to find and learn any specific aspect of the language. The site contains tutorials of PHP for all level of learners.
Read more: iPad Child Lock Timer
---
Code Academy
Code Academy again is a site not specific to teaching PHP only. But this website contains learning material covering PHP coding entirely teaching even the basic tips and tricks of the language. One of the best things about the site is their customized tool. These tools allow learners to code programs through PHP and learn the language by practical experience.
Read more: Email Tracking Tool for Gmail
---
PHP Jabbers
For intermediate to advanced level learners, this may be the most excellent website to learn more about the language. PHP Jabbers contain specialized guides on PHP dedicated to an intermediate and advanced level of PHP coding. The site can help you in learning a lot about PHP. Including creating a PHP calendar or setting up a custom PHP based Captcha system.
---
Conclusion
These are the 20 best website to learn PHP online. You can use these sites to learn PHP online. Most of the website and tutorials mentioned in the list are free of cost. They are useful in teaching all aspects of the language. You can start with a site with materials dedicated to beginner level teaching and then move to another website specializing in teaching the advanced level of the language. You can also share your best website to learn PHP online in the comments section below and don't forget to share this article with your friends.
Was this article helpful?