You can see your subscribers on YouTube on PC/laptops or Android/iPhone. I have shared a particular method to see the exact number of the subscriber on YouTube.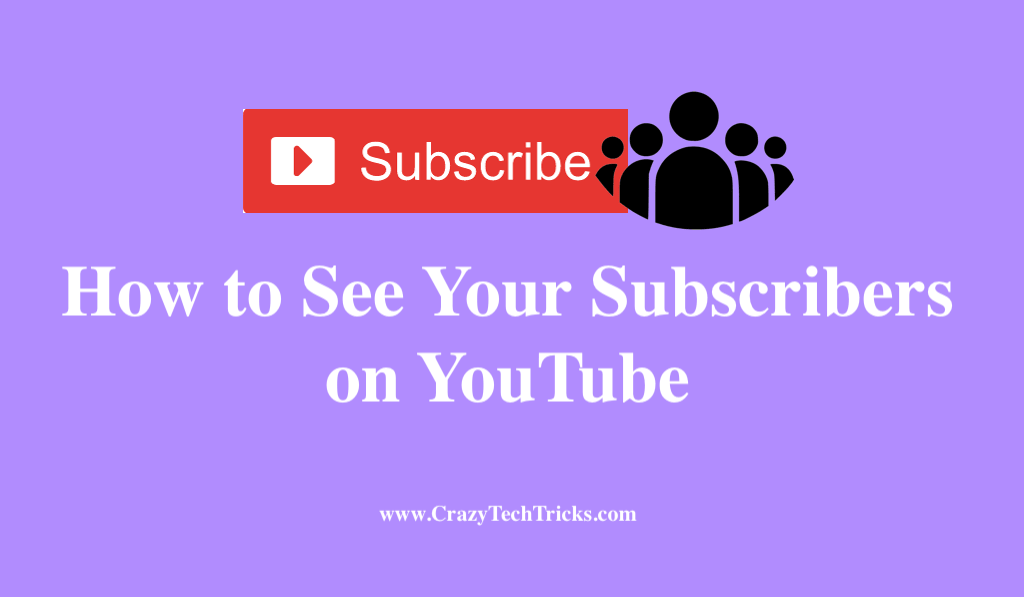 It is hard to stand out from the millions of other videos available on YouTube when there are 500 hours of videos uploaded every minute. Keeping track of the number of people who subscribe to your YouTube channel is probably something you want to do if your channel is gaining popularity. Monitoring who has subscribed is useful for coming up with new video concepts and keeping track of your growth rate.
Read more: How to Rent Movies from YouTube
Neither YouTube desktop nor YouTube mobile devices is difficult to view the number of subscribers, and we'll show you how. Within YouTube's desktop site, you can check both the number of subscribers and the names of those subscribers. If someone has publicly listed their subscription, their name will only appear in your subscriber list.
Read more: How to Create YouTube Shorts
How to See Your Subscribers on YouTube
New people subscribing to your YouTube channel is an exciting accomplishment, and you should be eager to learn how many they are. Moreover, It's easy to see your subscribers on youtube on the site. You'll find out how to see how many subscribers you have on YouTube by following our guide. However, there is a variety of ways you might use to do this. These are:
Desktop
iPhone or Android
Read more: How to Fix YouTube Not Working on PC
Method 1: Using desktop
If you're using a desktop computer, such as a Windows, Mac, Linux, or Chromebook, you can access subscriber data through the YouTube Studio website. You can start by opening the YouTube Studio website in your web browser on your computer, and then follow the onscreen instructions. It is among one of the simplest approaches to see your subscribers on youtube. Now, let us learn how to do it.
If you haven't done so before, sign in to your account on the site to proceed.
Now, click on "Dashboard" located on the left-hand side.
Under the "Channel Analytics" section, you can now track your subscription count.
Now, Subscribers are listed on your channel's "Recent Subscribers" panel check by clicking the "See All" button.
Your channel subscribers will be displayed in a "Subscribers" panel. Using the window's top-right corner, click the drop-down menu and then select a date from the list to filter this data by time. It is now clear what people are interested in your YouTube channel. If you see this, you'll be boosted to create more videos.
Read more: How to Turn Off YouTube Notifications on Android
Method 2: Using Android or iPhone
One helpful feature of YouTube studio is being able to see who has subscribed your channel or whose channel has subscribed to it on Android or iPhone too. So it's easy to check your youtube on your Android or iPhone if you don't feel like opening it on your desktop computer.
To begin, open the YouTube application on your smartphone and select your profile symbol from the app's top-right corner. And after that follow the below step to see your subscribers on Youtube.
Enable the person's silhouette by clicking on it.
Select "Your Channel" from the drop-down menu on the "Your Profile" page.
Under your channel name on your channel's page will be displayed number of users who have subscribed your channel.
Read more: How to Queue Videos on YouTube
Conclusion
You cannot add subscribers who have set their privacy to prevent their Subscriptions list from being viewed by the public to your Subscribers list. On top of that, YouTube is also known for inaccurately displaying subscriber counts from time to time, so if you find that a significant amount of your followers have disappeared, don't be alarmed! Therefore, these are the only few things you need to keep in mind, and then you're good to go.
Was this article helpful?