You can ublock blocked sites on Windows PC, Mac, Android or iPhone. I have shared six ways to open any site blocked on your Google Chrome. You can open the site without even changing the settings of the administrator.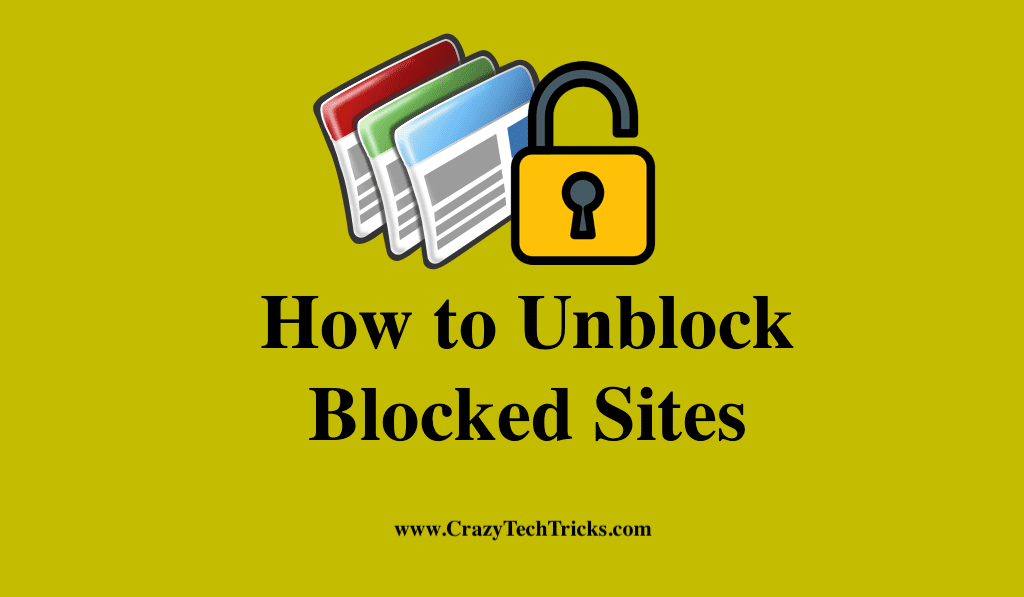 The very notion of having to search for "how to unblock blocked sites" seems ridiculous in this age of free speech. Whether it's your school, work, government, the country in which you're travelling, or something else, there are always ways to circumvent prohibited information.
Likewise, there are many ways to unblock websites, no matter what the cause. The good news is that using a Virtual Private Network (VPN) will allow you to access restricted content. Occasionally, open proxies or messing with your DNS settings can also be effective.
How to Unblock Blocked Sites
Unblocking Blocked Sites can be accomplished in several ways.
Using VPN
Web proxy
Proxy browser extension
Using IP address
Using Google translate
Using alternative DNS
1. VPN
Use a virtual private network (VPN) to bypass content limitations and access the URLs you want. A virtual private network (VPN) allows you to choose your virtual location by routing your Internet traffic through a server in another country. By using a VPN to access a website, the website believes the virtual location displayed by the VPN to be your actual location, masking your real location and allowing access to blocked content. Moreover, VPNs encrypt your connection, safeguarding your data and your private information when you buy online. Here's how to use a VPN to unblock websites on desktop and mobile devices:
The first step is to obtain and set up a VPN.
Next, activate the VPN and pick a location from which to do your web browsing. Choose a region where the content you're looking for is available, if possible.
Securing your traffic and masking your IP address is as simple as selecting "Optimal location" (or a similar setting).
From this point on, you'll be able to browse the web safely and anonymously.
Read more: How Can you Block Someone on LinkedIn
2. Web proxy
A web proxy is useful for fast unblocking information on public computers or while using a work or school computer that does not permit the installation of a VPN or Tor. Once you've accessed your preferred site using a proxy server, you'll be able to hide your location. A web proxy makes unblocking sites on a school computer quick and painless for anyone. Go to one of the proxy websites, type in the URL of the real website you want to view, then click a button to gain access. When using a web proxy, you must first go to the proxy's website before you can access the site you want. If you want to stream content online, you'll have to deal with the occasional annoyances.
Read more: How to Block People on Tinder
Also, Unblocking URLs with the HMA web proxy is a breeze. Enter the URL of the website you wish to view, select a server, and you're good to go.
3. Proxy Browser Extension
To avoid wasting time travelling to a proxy, the proxy extension resides directly in your browser and is ready whenever you need it. A simple website-based proxy may not be able to unblock dynamic websites such as YouTube, Twitter, and Amazon. You can use a browser extension like Chrome, Edge, or Firefox to install a proxy. Using a website unblocker like this will allow you to surf freely and select from a variety of servers to meet your specific requirements.
Numerous useful proxy addons can be found online. The HMA Chrome proxy can be used as follows:
To begin, download and install the HMA browser extension for free from the Chrome store.
An open proxy window will appear when you click Turn On on the donkey hat icon in the upper-right corner. Virtual locales can be selected using the Disguised as a button.
Read more: How to Block Someone on Signal App
4. IP Address
The possibility exists that your university restricts only specific URLs rather than entire IP address ranges. An IP address can be used to unblock a website in this situation. URL stands for the website address string you see in your address bars, like https://facebook.com or https://reddit.com. An IP address is a set of numbers that is unique to the server that hosts the website, and it's the same for every single server that hosts the website. Now, Simply type it into the address field and you'll be able to get to the desired site.
Read more: How to Block People on Google Hangouts
5. Google Translate
Unblocking websites via Google Translate is another Google-based solution. However, you may be able to see the data you need even if this fast and dirty solution doesn't display the website exactly the way you want it to appear. Unblocking websites with Google is as simple as following these steps:
Go to Google Translate, type a random language in the from field and English in the to the field, then paste the URL of your choice into the box.
It's as simple as clicking a link, and you'll be able to check the site as if it hadn't been restricted.
Read more: How to Block someone on Instagram
6. Alternative DNS
Whenever a website is blocked in a region, the Internet service provider (ISP) is to blame. Changing your ISP's DNS server to anything else may let you access the site. Google Public DNS, for illustration, can be used as a DNS provider. When you right-click on the network icon in your taskbar, you can select Open Network and Share from the menu. You can adjust the DNS settings under IPv4 by double-clicking on your network in the window that appears.
Read more: How to Delete Friends on Snapchat
How to unblock sites that are blocked by the Administrator
The steps to unblock sites that are blocked by the administrator are:
Use the Google Admin panel to log in. Use the administrator account to log in.
Go to Devices on the Admin console's main menu.
Select an option: To regain access to your Android, iOS, and Google Sync devices, go to Mobile devices and follow the on-screen directions.
You can remove the device by clicking Unblock Device on the list.
Read more: How to Block Emails on Gmail
How to Unblock Mcafee Blocked Sites
You can try the following actions and let us know if the problem persists.
Open the McAfee antivirus.
In the upper-right corner, select Web and Email Protection or click the Gear symbol.
Afterward, select Firewall and then Net Guard.
Click the IP Address for the website that you wish to view from the list.
Choose Allow instead of Block by clicking Edit.
Click on Save or Apply.
Now, Use this webpage to see if it's functional.
Read more: How to Open Facebook When it is Blocked by Server
Conclusion
Using the methods listed above, you will be able to view material from any restricted website. Moreover, none of the aforementioned methods present a danger when used as described above. Using the Tor browser is reasonably secure. Free VPN trials are also available from paid businesses. It's also possible that one of these strategies will work for you despite the constraints and limits. If all else fails, you may always use a virtual private network (VPN) service such as Hotspot Shield to access banned websites.
Was this article helpful?